Fun surf days ahead
Western Australia Surf Forecast by Craig Brokensha (issued Wednesday January 19th)
Best Days: Protected spots tomorrow morning in the South West, Friday morning, Saturday morning in the South West, Monday morning, Tuesday morning in the South West
Features of the Forecast (tl;dr)
Inconsistent, mid-period W/SW swell building tomorrow, peaking Fri, easing Sat AM
Mod-fresh S/SE winds ahead of sea breezes tomorrow (NE in Perth and Mandurah during the AM), light-mod E/NE with weak sea breezes Fri and Sat
Inconsistent mid-period W/SW swell for Mon with gusty SE tending stronger S/SE winds, easing Mon with fresh morning E/SE-SE winds
Recap
Great conditions yesterday morning across the South West with easing 3ft sets on the swell magnets, back to a smaller 2ft today with stronger offshore winds. Perth and Mandurah have been clean and tiny, with hot overnight temperatures.
This week and next (Jan 20 - 28)
Into tomorrow we should see the swell rise again as the first of our mid-period W/SW swell pulses fills in. This initial swell and a stronger pulse on Friday were generated by a slow moving, broad low moving east across the Heard Island region during the weekend and the last couple of days.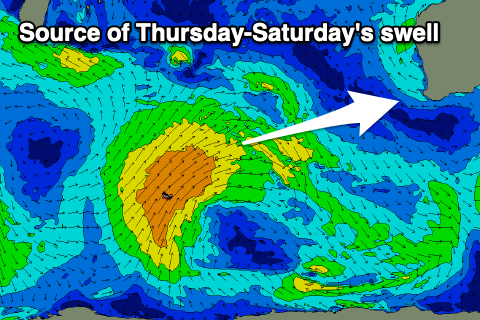 Tomorrow's pulse should build to 4-5ft across the South West through the day with tiny 1-1.5ft waves in Perth and Mandurah through the afternoon, while Friday looks a bit better to 4-6ft and 1-2ft respectively.
Conditions won't be ideal but still workable tomorrow morning with a moderate to fresh S/SE breeze, shifting S/SW and strengthening into the afternoon across the South West, NE tending SW to the north.
Friday is the pick with a light to moderate E/NE offshore ahead of weaker sea breezes. Saturday looks to play out similar but the swell will be easing, dropping from 3-5ft across the South West and 1-1.5ft in Perth and Mandurah.
Sunday looks to be a lay day with a temporary low point in swell through the morning and stronger S/SE winds as a new ridge of high pressure slides in from the west.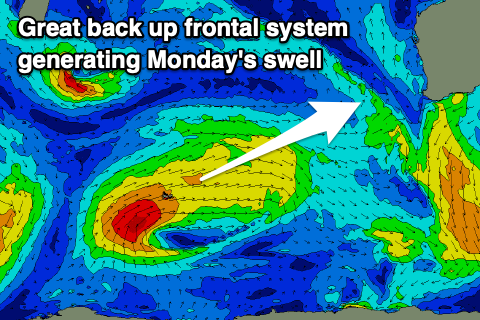 Later in the day our less consistent, reinforcing pulse of mid-period W/SW swell is due, produced by a trailing fetch of strong to gale-force W/SW winds projecting up and across the Heard Island region today and tomorrow.
This swell is looking a touch better now and should provide 5-6ft sets across the South West and 2ft sets in Perth and Mandurah along with gusty SE tending stronger S/SE winds. Tuesday looks a touch cleaner with an E/SE-SE offshore as the swell tails away.
Longer term there's still nothing too major on the cards so make the most of the coming swells and favourable winds.