Fun end to the week, poor all of next week
Western Australia Surf Forecast by Craig Brokensha (issued Wednesday October 13th)
Best Days: Tomorrow Margs and Mandurah in the morning, all locations Friday, protected spots Saturday morning
Features of the Forecast (tl;dr)
Low point in swell tomorrow AM ahead of a new SW groundswell building later in the PM. Gusty E/SE tending S/SE winds (S/SW-SW further north in the PM)
Peak in SW groundswell Fri PM, easing thereafter with gusty E/SE-E winds and S/SW sea breezes
Fading surf Sat with gusty S/SE tending S/SW winds
Small Sun with W/NW-W breezes
Building N/NW windswell Mon and Tue with strong N tending N/NW winds
Large W/NW-W groundswell Wed with strong W winds
Recap
Yesterday's large SW groundswell came in on forecast with very sizey waves across the South West but with poor conditions for all but protected southern corners, better in Perth and Madurah through the morning with a peak in size through the afternoon.
Today conditions have improved across all locations with sets still pushing in at 8ft across the South West, cleanest in protected spots with a S/SE breeze, better to the north with 2-3ft waves in Mandurah and 2ft+ surf across Perth.
This week and weekend (Oct 14 - 17)
We've got a fun end to the week wave wise with the current swell due to continue easing into tomorrow morning ahead of a new SW groundswell later in the day, peaking Friday.
A fresh E/SE breeze will shift S/SE into the afternoon across the South West, while Perth and Mandurah look to see strong sea breezes from the S/SW-SW.
Size wise the South West will be back around the 4ft range on the swell magnets and only mid-period in energy, 1-2ft in Mandurah and tiny across Perth.
The new groundswell has been generated by a broad polar low that's moved in under the Indian Ocean since the weekend, with good fetches of pre-frontal W/NW gales followed by post-frontal W/SW gales.
The swell should build to a good 6ft+ across the South West later tomorrow afternoon, easing from a similar size on Friday morning, 2ft+ in Mandurah and 2ft on the sets across Perth.
Conditions will be good again Friday morning with a gusty E/SE-E offshore ahead of local afternoon sea breezes.
The swell should continue to ease through Saturday but with less favourable and gusty S/SE-sE winds in the morning, shifting S/SW-SW into the afternoon as a low forms off our coast and moves inland. This looks to spoil winds on Sunday with W-W/NW breezes due across all locations with smaller surf again.
Next week onwards (Oct 18 onwards)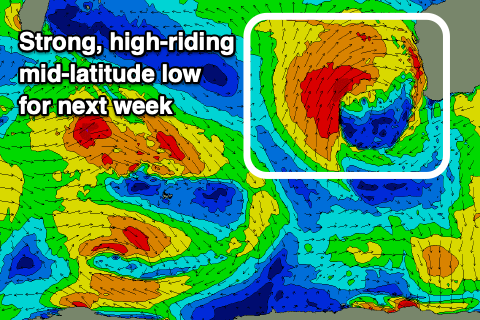 As we move into next week, a strong mid-latitude low is due to fire up west of us, high in latitude and as it moves in it'll bring strong N'ly winds to the coast on Monday. It'll be slow moving with strong N/NW winds due to persist into Tuesday, kicking up moderate-large levels of N/NW windswell.
The low itself looks to generate multiple fetches of gale to severe-gale W/SW-SW winds through our western swell window, generating a large W'ly groundswell for Wednesday, coming in W/NW across Margs.
Unfortunately to to the high latitude nature of the low we'll see strong W'ly winds on Wednesday, persisting Thursday and not even relenting on Friday. This looks to spoil all of next week so make the most of the coming days of waves.