Good swells for the weekend with improving winds
Western Australia Surf Forecast by Craig Brokensha (issued Friday September 10th)
Best Days: Protected spots tomorrow afternoon, Sunday morning, Monday morning, Tuesday, early Wednesday Perth and Mandurah
Features of the Forecast (tl;dr)
Large SW groundswell building tomorrow with fresh S/SE winds (possibly SE for a period in some regions), tending S-S/SW through the day and S/SE late
Large, reinforcing S/SW groundswell Sun AM, easing with morning offshore winds ahead of sea breezes, similar Mon as the swell eases further
Mid-period SW swell arriving late Mon, peaking Tue AM with a similar sized reinforcing pulse for late in the day, easing Wed. E/NE tending NW winds Tue, strong N/NW Wed (N/NE early Perth and Mandurah)
Oversized mix of stormy swells Thu and Fri with strong to gale-force onshore winds
Recap
Great surf across the South West yesterday with variable offshore winds and strong 10ft sets, easing slowly through the day as winds remained variable. Further north conditions weren't ideal at dawn with gusty cross-shore winds but winds improved as forecast with great surf into the afternoon to 3-4ft in Mandurah and 3ft across Perth.
Today Perth and Mandurah are the pick with clean morning conditions and 2-3ft of easing swell, variable early in the South West before strong onshore winds kicked in.
This weekend and next week (Sep 11 – 17)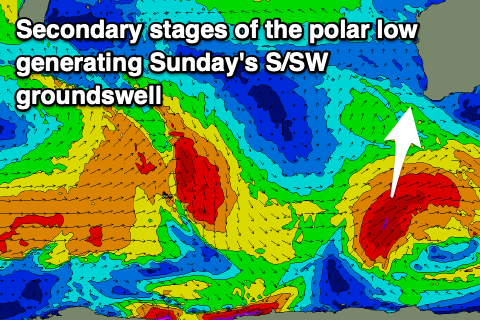 Following today's developing onshore winds across all locations, we'll see winds shift around to the S/SE tomorrow morning (fresh) as a high ridges in behind the trough linked to the change. Some locations may see periods of SE winds but they'll mainly be S/SE.
This will be as a new, large SW groundswell starts to fill in, generated by a strong polar low in the Heard Island region earlier this week. The South West should build to 6-8ft through the afternoon, kicking later further north and to 2-3ft and 2ft respectively. Winds are due to swing more S-S/SW at a period through the day and back to the S/SE late.
Moving into Sunday, better offshore winds from the E/NE are expected across all locations, swinging more N/NE through the day with weak sea breezes in the South West, stronger in Perth and Mandurah.
Swell wise, our reinforcing pulse of S/SW groundswell for the South West is still on track, generated by the secondary stages of the polar low today. A great fetch of severe-gale SW winds are being generated through our southern swell window, and this should keep the South West up around 8ft Sunday morning, 2ft to possibly 3ft in Mandurah and 2ft across Perth. The swell will ease through the day.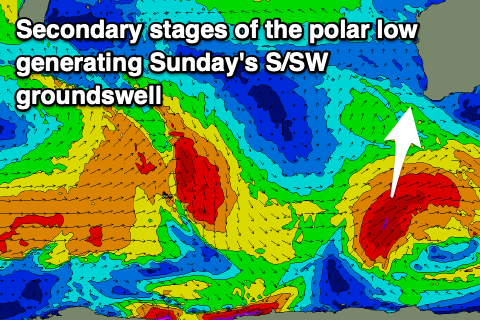 Monday should see E/NE winds again through the morning ahead of SW sea breezes and easing surf back from 4-5ft+ in the South West, 1-2ft in Mandurah with tiny waves across Perth.
Later in the day Monday but more so Tuesday, a new mid-period SW swell is due to fill in ahead of a reinforcing pulses into the afternoon and Wednesday. The source of these swells will be a flurry of polar frontal activity in the Heard Island region over the weekend, then projecting up towards us while weakening. Wind strengths won't be overly special but we should still see a moderate sized swell generated, peaking Tuesday morning to 5-6ft+ across the South West, 2ft in Mandurah and 1-2ft across Perth. A reinforcing pulse looks to keep similar sized waves hitting the coast on Wednesday.
Locally winds will be favourable again Tuesday morning and E/NE tending NW, with less favourable, strengthening N/NW winds Wednesday. Perth and Mandurah should see a period of early N/NE winds.
On the back of the relatively weak polar frontal activity, a stronger fetch of severe-gale W/NW tending W winds are due to fire up, and this should produce a larger SW groundswell for Thursday, though the remnants of this frontal system is forecast to form into a strong, slow moving mid-latitude low off our coast Wednesday.
This will be the cause of the strengthening N/NW winds, with Thursday seeing strong to gale-force W/SW-SW winds as the low pushes east. An oversized, stormy swell will arrive with the winds and the slow moving nature of the mid-latitude low will see onshore winds linger into Friday and Saturday as the swell eases. We'll have a closer look at this Monday though. Have a great weekend!