Cleaner conditions from the weekend with good sized surf
Western Australia Surf Forecast by Craig Brokensha (issued Friday September 3rd)
Best Days: Saturday, Sunday, Monday selected locations, early Tuesday selected locations, Thursday Perth and Mandurah
Features of the Forecast (tl;dr)
Easing S/SW swell Sat with E/NE tending variable onshore winds
Low point in swell Sun with E/NE tending variable N winds
Possble late increase in SW groundswell Sun, peaking Mon AM with strong NE tending N/NE winds (possibly E/NE at dawn)
Easing SW groundswell Tue with fresh N/NE tending N/NW winds
Large W/SW groundswell building late Wed with fresh to strong N/NW tending W/NW winds, peaking Thu with S/SE winds in Perth and Mandurah early, W'ly in the South West
Recap
Terrible conditions across all locations yesterday with an oversized, stormy SW swell in the South West, 4ft or so in Mandurah and building, choppy 3-4ft surf into the afternoon across Perth.
Today a high is moving in from the west, with Perth and Mandurah seeing cleaner conditions with peaky 3-4ft waves across Mandurah, great and to 3ft in Perth. Margs is still fairly average with easing winds from the southern quadrant, favouring protected spots with large 10ft+ waves continuing across the region.
This weekend and next week (Sep 4 – 10)
From the weekend, the surf is looking much better across the South West, with the high pushing in further across us, swinging winds around to the E/NE tomorrow morning, similar in Perth and Mandurah.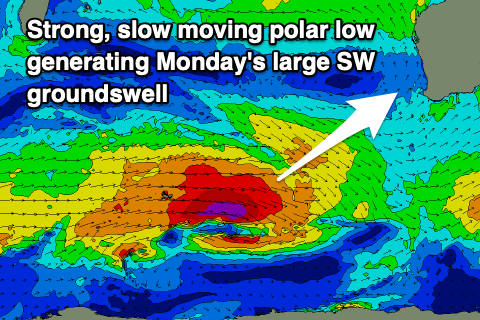 Conditions should remain favourable into the afternoon across the South West with a light NW tending W/NW breeze, fresher S/SW up in Perth and Mandurah. The swell from today will continue to ease with easing 6-8ft sets across the South West, 2-3ft in Mandurah and 2ft+ across Perth.
Sunday will be smaller again along with E/NE tending variable N winds, but a new SW groundswell thats due later in the day now looks to be shifted more towards Monday.
Keep an eye out for late sets, but with the polar low linked to it moving a little slower than forecast on Wednesday, the bulk of the swell is now due Monday.
This low has formed around the Heard Island region yesterday evening and will generate a good fetch of severe-gales W tending W/NW winds while slowly weakening and tracking east over the coming days.
The peak is still expected Monday morning with 8ft+ sets across the South West, 2-3ft in Mandurah and 2ft+ across Perth along with strengthening NE tending N/NE winds, easing later in the day.
Dawn in the South West may see E/NE winds, but either way, locations that like north-east winds will be the pick.
Make the most of it as conditions will deteriorate with N/NE tending N/NW winds ahead of a mid-latitude low pushing in from the west on Tuesday as the swell eases.
This mid-latitude low will be strong, slow moving but structurally a little unfavourably aimed. An initial broad fetch of W/SW gales will be generated, followed by stronger severe-gale to storm-force S/SW-S winds wrapping around its western flank, though aimed towards Indonesia.
Still, we should see a large W/SW groundswell generated for our state, arriving late Wednesday but peaking Thursday to 8ft+ across the South West, 3ft in Mandurah and 2-3ft across Perth.
Conditions will be poor Wednesday with N/NW tending W/NW winds, cleaner in Perth and Mandurah Thursday with S/SE winds, still likely lingering from the W in the South West, but we'll review this Monday.
Friday might see W'ly winds ahead of a trough and S'ly change, but check back Monday for more on this and some new swell next weekend. Have a great weekend!