Fun options away from Margs until Sunday
Western Australia Surf Forecast by Craig Brokensha (issued Wednesday August 11th)
Best Days: Perth and Mandurah Thursday, Friday morning select locations, Saturday Perth and Mandurah, Sunday and Monday all locations
Features of the Forecast (tl;dr)
Easing large, mid-period SW swell tomorrow with mod-fresh W/SW winds in the South West, NE in the AM further north, light-mod NW in the PM
Mod-large, mid-period SW swell for Fri with dawn N/NE tending N/NW winds (strengthening) in the South West, moderate NE tending NW in Perth and Mandurah
Easing swell Sat with light-mod SW winds in the South West, light E in Perth and Mandurah
Good mod-large W/SW swell Sun with E tending variable winds
Reinforcing W/SW groundswell Mon AM with mod-fresh E/NE tending variable winds
Recap
Huge surf across the South West yesterday with rogue 20ft+ waves and strong to gale-force onshore winds. Today has settled back to 12-15ft or so with less wind but options are hard to come by.
Perth and Mandurah were large and onshore, with much better conditions seen across the former this morning as expected with clean, peaky 3-4ft waves, still bumpy and average across Mandurah.
This week and weekend (Aug 10 - 15)
We'll see the XL stormy swell from yesterday continuing to ease into tomorrow, dropping in size and period with better winds and conditions for Mandurah. While similar variable NE winds to this morning are expected, winds out to sea will be variable from this evening, allowing the ocean to clean up. The South West unfortunately will remain onshore with a moderate to fresh W/SW breeze.
Size wise the South West looks to still be large and to 8ft, easing through the day with peaky 3ft waves in Mandurah, 2-3ft across Perth. Winds won't be overly strong into the afternoon, only light to moderate NW in Perth and Mandurah, keeping conditions relatively clean and fun.
Friday is now looking less favourable for the South West unfortunately with a trough bringing N/NW winds that will freshen and shift NW later in the day. At dawn we'll likely see N/NE winds, but these will shift quickly.
Our new SW swell is on track, generated by a great fetch of pre-frontal W/NW gales moving through our swell window today, though it formed a touch later in our swell window, so it looks like it might be a touch smaller than expected Monday.
The South West looks to be mostly 6ft+ with the odd 8ft'er less likely on the swell magnets, 2ft+ in Mandurah and 2ft on the sets across Perth. Mandurah and Perth should see moderate NE winds, shifting NW into the afternoon.
With the trough coming in a touch earlier but weaker on Friday, Saturday looks cleaner in Perth and Mandurah with variable E/NE winds and easing surf from Friday. Margs will see lingering SW winds, creating bumpy conditions.
Sunday is the day we'll finally see winds swing true offshore across the South West, with a light E'ly offshore and good, new mid-period W'ly swell.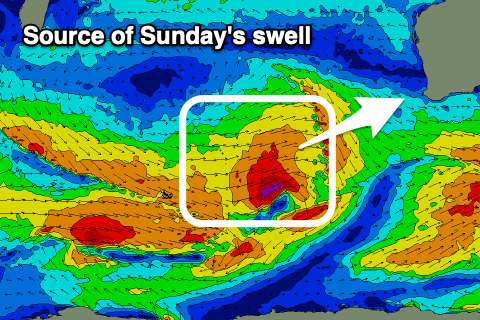 This mid-period but large W/SW swell is being generated by a mid-latitude frontal system pushing in from south-east of Madagascar, with a fetch of strong to gale-force W/SW winds due to make nearly the entire Indian Ocean crossing.
The remnants will be linked with Friday N/NW winds and Saturday's weak SW change.
Size wise the South West should come in around 6ft+, 2-3ft in Mandurah and 2ft+ across Perth with those offshore winds. A reinforcing pulse for Monday morning looks to keep less consistent 6ft sets across the South West, 2-3ft waves in Mandurah and 2ft+ surf in Perth before easing into the afternoon. Winds look great and moderate to fresh E/NE, tending variable.
Longer term we may see a new mid-period swell mid-late week but not to the size of Sunday/Monday's. More on this Friday.