The Long Wave Trough comes to town
Western Australia Surf Forecast by Craig Brokensha (issued Monday July 19th)
Best Days: Tomorrow, Thursday morning, Sunday morning Perth and Mandurah
Features of the Forecast (tl;dr)
Easing SW swell tomorrow with strengthening E tending E/NE winds
Smaller Wed with fresh to strong W/NW winds in Perth and Mandurah, S/SE early in Margs
Inconsistent SW groundswell Thu with variable morning winds, shifting onshore
Strong W tending S/SW winds and a late increase in swell Fri, large Sat but with strong SW winds
Easing swell Sun with strong W winds in the South West, NE early in Perth and Mandurah
More large, onshore surf next week
Recap
Saturday was great across the South West with a large, new SW groundswell to 10ft on the sets and offshore winds, variable into afternoon. Perth and Mandurah were also good with 3ft and 2-3ft surf respectively.
Onshore winds kicked back in again across the South West yesterday with a drop in swell, OK in Perth and Mandurah early before deteriorating.
Today we've got a new, reinforcing SW swell but a continuation of onshore winds in the South West, bumpy in Mandurah and clean around Perth.
This week and weekend (Jul 20 - 25)
Tomorrow is worth making the most of with winds due to swing offshore again across the South West along with easing SW energy from today.
A strengthening E tending E/NE breeze is due owing to a deepening mid-latitude low to our west, with easing sets from 4-6ft across the South West, 2ft in Mandurah and Perth.
We'll see the mid-latitude low move in on Wednesday bringing strong, onshore W/NW winds to Perth and Mandurah, S/SE early in Margs, shifting strong S/SW across all locations through the day. The size will continue to ease and options will be limited.
Come Thursday morning, a period of variable winds are due in the morning along with an inconsistent, new SW groundswell.
The source of this swell is a patchy polar frontal progression that's currently east of Heard Island expect slow sets pushing back up to 4-6ft in the South West, 2ft in Mandurah and 1-2ft across Perth.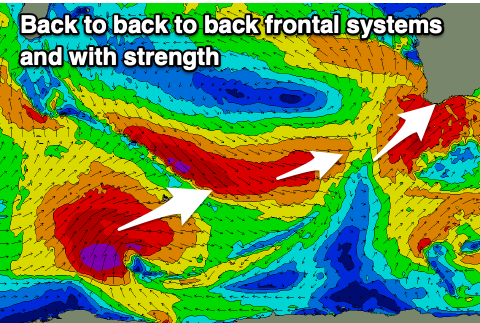 This will be the last period of light winds before we see the storm track pushing north, up and across us again from Friday through all of next week and possibly Saturday week owing to a strong, stationary node of the Long Wave Trough setting up across us.
This will steer some of the strongest fronts we've seen this winter up and towards us, generating large to extra-large pulses of swell but with terrible winds.
The first front on Friday will bring W tending S/SW winds but no decent SW groundswell until Saturday though with strong SW winds. Size wise the South West should build to 10ft+ through the day, with 3-4ft waves in Mandurah, 3ft in Perth.
A drop in size is expected Sunday as the front clears to the west, but winds remain strong from the W in the South West. Perth and Mandurah are likely to see dawn NE winds Sunday before shifting onshore from the W/NW.
The next pulse of groundswell will be from pre-frontal W/NW gales, filling in Monday afternoon and more so Tuesday, but with a larger SW groundswell moving in on top from broader severe-gale W/SW winds following the pre-frontal fetch.
Large 10-12ft surf is likely in the South West, 4ft across Mandurah and 3ft in Perth but with strengthening NW winds Monday, W/SW on Tuesday.
Similar sized surf and winds are likely into the end of the week before the progression of fronts clears the Sunday after, but more on this in the coming updates.