Improved outlook for tomorrow
Western Australia Surf Forecast by Craig Brokensha (issued Friday July 9th)
Best Days: Perth and Mandurah tomorrow, Margs late in the day, all locations Sunday morning
Features of the Forecast (tl;dr)
Large mid-period W/SW swell building tomorrow with strong but easing S/SW winds in the South West, light and variable to the north
Easing mid-period W/SW swell Sun with dawn E/NE winds, strengthening from the NE and then N/NE
Large mix of W/NW swells building late Mon but peaking Tue with strong W/NW winds, easing Wed with strong W/SW winds
Building mid-period SW swell late week with strong SW winds, easing Sat with lighter, more favourable winds
Better surf potential next week
Recap
No improvement to a level that's worth getting wet for yesterday or today across Margaret River and Mandurah, but Perth has seen a window of lighter winds and peaky, surfable 1-2ft sets this morning.
This weekend and next week (Jul 10 - 16)
A strong front come mid-latitude low is currently edging in from the west, bringing strengthening NW winds that will shift W as it pushes in later this afternoon.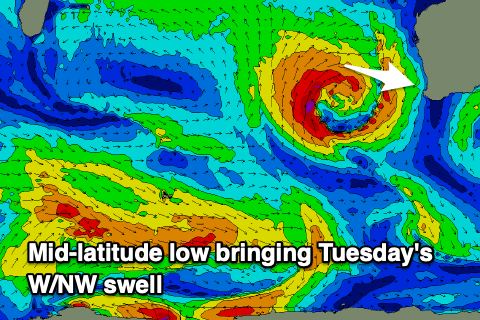 With this we'll see a large, mid-period increase in W/SW swell for tomorrow, and now that a low centre is due to form, there's a window of cleaner conditions due across Perth and Mandurah. Margs will see strong S/SW winds tomorrow, easing off quite a bit late afternoon, with Perth and Mandurah seeing variable E/NE winds develop through the morning. They might not be in at dawn but should kick in as the day goes on remaining light into the afternoon.
Size wise, Margs should build to 8-10ft through the afternoon, with sets building to 4ft in Mandurah and 3-4ft across Perth.
Sunday is still looking good with dawn E/NE winds, due to swing NE quickly and strengthen, more N/NE later as a stronger mid-latitude fires up west of us and starts moving in.
Saturday's swell will be on a steady decline though with easing 8ft sets in the South West, 3ft+ in Mandurah and 3ft across Perth.
The swell from this high-riding low (moving slowly towards us Sunday) will arrive out of the W/NW, with a fetch of strong to gale-force W/NW winds wrapping around its northern flank, with the bulk of the fetch angled north and aimed towards Indonesia.
Very late Monday the first signs of groundswell are due, but before this we'll see smaller surf, with possible dawn NE winds, shifting strong NW as the low starts to come even closer.
A peak in due Tuesday with a stormy windswell in the mix, coming in around 10ft+ in the South West 4-5ft across Mandurah and Perth but with strong W/NW winds.
Unfortunately the backside of the low will keep strong W/SW winds hitting the coast into Wednesday as the swell eases.
There'll be no improvement into Thursday as another strengthening front come possible mid-latitude low fires up and into us, bringing a localised, poor increase in stormy windswell Friday but with strong SW winds.
Behind this front, a high looks to bring lighter winds into next Saturday as the poor quality swell eases, smaller into Sunday.
Now, longer term we might be looking at a more normal progression of polar fronts through our swell window, producing some better groundswell the following week with workable winds. We'll have to provide a clearer idea on this Monday though. Have a great weekend!