Monday, 26 April 2021
Good surf days this week, large into Sunday
Western Australia Surf Forecast by Craig Brokensha (issued Monday April 26th)
Best Days: Tomorrow morning, Wednesday morning, Thursday morning Perth and Mandurah, Sunday afternoon and Monday morning
Features of the Forecast (tl;dr)
Good pulses of moderate sized + swell from tomorrow through Thu, biggest Wed with variable offshore winds each morning (W/NW tending NW Thu in the South West)
Moderate sized + W/SW-SW swell for Fri but with strong W/SW tending SW winds, easing Sat with lingering onshore winds
Large, powerful SW groundswell building Sun with tricky winds at this stage
Recap
A drop in size from late week but nice clean conditions and 3-5ft surf in the South West, 1-1.5ft in Mandurah and tiny across Perth. An inconsistent new SW groundswell kept the surf around a similar size across the South West yesterday morning, tiny to the north.
We've got a bit less size this morning but good conditions with clean 3-4ft waves in the South West, tiny to the north.
This week and weekend (Apr 27 – May 2)
With the swell easing into today, from tomorrow we've got our fun run of moderate sized + swell with multiple pulses due over the coming days, initially a touch inconsistent and now it looks strongest Wednesday.
Multiple fetches of strong to gale-force W/SW winds have been projected towards us since late last week, and Wednesday's best pulse is still being generated by W'ly gales, west-southwest of us this morning.
The progression linked to the swells will dip south-east while weakening tomorrow, resulting in a drop in swell from Thursday morning.
Size wise, the first pulse of W/SW swell tomorrow should see good 6ft sets across the South West, 2ft in Perth, with Wednesday's now likely to push higher to 6ft+ in the South West, 2ft+ in Mandurah and 2ft across Perth.
We should then see the swell easing from that 6ft range Thursday morning and 2ft further north in Mandurah and Perth.
Now, winds look variable tomorrow morning (S/SE Mandurah and Perth) creating clean conditions across most locations ahead of sea breezes, with Wednesday seeing light E/SE tending E/NE winds ahead of sea breezes. Thursday will be clean in Perth and Mandurah with a variable offshore wind but the South West looks to see freshening W/NW tending NW winds as a mid-latitude front approaches.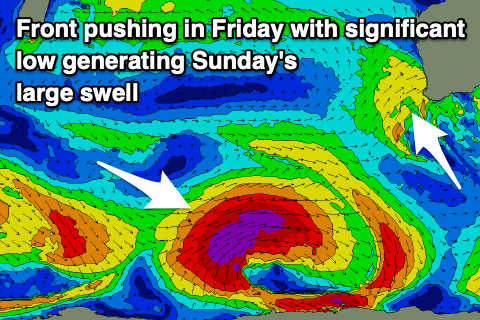 The mid-latitude front will be slow moving and not overly strong but will bring with it a moderate sized, mid-period W/SW-SW swell for Friday, peaking into the afternoon. Size wise the South West looks to kick back to a messy 6ft+ or so with 2-3ft sets in Mandurah and Perth along with strong W/SW tending SW winds.
Winds look to linger onshore into Saturday as the swell eases and possibly also into Sunday.
Winds pending, there's quite a significant swell due to fill in Sunday, peaking through the afternoon.
The source will be a strong low firing up just west of the Heard Island region on Wednesday evening, with a great fetch of severe-gale to storm-force W/SW winds due to be projected through our south-western swell window.
The low will stall slightly on its final approach through our swell window, generating a large, powerful, long-period SW groundswell for Sunday, building rapidly through the day to peak into the afternoon. Size wise the South West should reach 10-12ft+ across the exposed reefs, 3-4ft in Mandurah and 3ft across Perth. Afternoon winds from the southern quadrant will favour protected spots with E/NE offshores likely Monday (check back Wednesday) as the swell eases, though still large early.
Longer term there's all sorts of funky mid-latitude storm action on the cards and it's making it really hard to forecast. There's no lack of swell, it's just the local winds.
Therefore check back Wednesday for a clearer idea when things will hopefully be more settled.