Slow period until mid-next week
Western Australia Surf Forecast by Craig Brokensha (issued Monday April 12th)
Best Days: Perth and Mandurah tomorrow morning, Wednesday morning in the South West, Thursday onwards each morning in the South West on the magnets
Features of the Forecast (tl;dr)
Mix of weak S/SW swell and S/SW groundswell tomorrow with strong S/SW winds in the South West, S/SE early in the north, easing Wed with lighter offshore winds (SE Margs)
Nothing of note with small, background, mid-period swells in the South West with morning offshore winds
Recap
Clean conditions with a building swell Saturday in the South West, 4-5ft in the morning and bigger into the afternoon as winds remained favourable. The swell kicked overnight further north, with Sunday seeing fun clean 1-2ft waves in Mandurah, tiny to the north.
Margs was best yesterday with a stiff offshore wind but clean surf to 6ft, good all day.
Tropical Cyclone Seroja didn't bring any meaningful swell today for our forecast locations, but has caused quite a bit of destruction in the Kalbarri region before quickly tracking south-east across our wheat belt. Surf wise the swell has eased from yesterday a a S-S/SW change is creating average to poor conditions.
This week and weekend (Apr 13 - 18)
While Seroja pushes south-east across the state, we've got a deepening mid-latitude low south of us, which will then absorb the remnants of Seroja and strengthen further while pushing slowly east of our swell window and under our South Coast tomorrow.
Today though, the low though is generating a fetch of S/SW gales just within our swell window, with broader, weaker S/SW winds extending up to the North West, and we'll see a combo of weak S/SW swell and S/SW groundswell tomorrow, with the later building tomorrow and peaking through the middle of the day/early afternoon.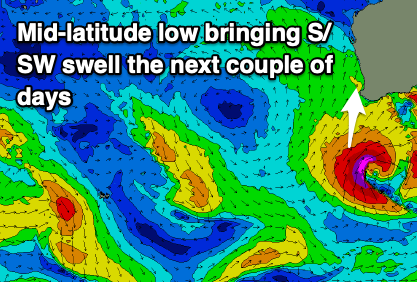 The South West should see surf reaching 6-8ft with 2ft+ surf in Mandurah all day tomorrow from the weaker energy, 2ft in Perth. Unfortunately winds will remain strong from the S/SW tomorrow across the South West, S/SE further north during the morning in Perth and Mandurah.
Wednesday will be much cleaner in Perth and Mandurah with a light E/SE offshore, while Margs should see light SE winds but an easing mid-period swell from 4-6ft. Perth and Mandurah look tiny and to 1-1.5ft.
There's nothing noteworthy for the rest of the week with the surf due to ease further Thursday, while a weak, background, mid-period SW swell will keep small waves hitting the South West Friday.
Don't expect much over 3ft but conditions look clean with morning E'ly sea breezes and weak afternoon sea breezes.
Unfortunately the storm track will remain relatively quite through the end of this week and weekend, resulting in no significant swells until mid-next week across our region. Winds will remain favourable with small waves on the South West magnets but check back Wednesday for an update on next week's potential.