Seductive Seroja
Western Australia Surf Forecast by Craig Brokensha (issued Friday April 9th)
Best Days: Saturday in the South West, Sunday
Features of the Forecast (tl;dr)
Large S/SW groundswell building Sat with strong though easing E winds, easing Sun with gusty E/NE tending NE winds
No N/NW swell south of Jurien Bay from Seroja
Recap
A small lift in background, mid-period swell across the South West and Mandurah yesterday to 3-5ft and 1-2ft respectively, tiny in Perth. Conditions were OK and workable in the morning, average into the afternoons.
Today the swell has dropped a little in the South West but conditions were favourable across most breaks, 1-2ft in Mandurah.
This weekend and next week (Apr 10 - 16)
The coming weekend looks good across the South West with a decent though directional S/SW groundswell due to fill in on Saturday, peaking later in the day then easing Sunday. With the southerly direction and timing, Mandurah will most likely see the peak in size and best waves Sunday morning.
The source of this swell was a 'bombing' low forming late in our swell window, with a fetch of severe-gale to storm-force W/SW winds developing just before pushing east.
Size wise the South West should start building from mid-morning, reaching 6ft to possibly 8ft across the swell magnets by dark and only likely reaching 1-2ft on dark in Mandurah. Easing surf from 6ft+ is due Sunday in the South West, 2ft in Mandurah and 1-1.5ft Perth.
Winds look great still with a strong E offshore in the morning tomorrow, tending E/NE while easing into the afternoon, then fresh to strong E/NE tending NE on Sunday.
Monday will deteriorate with a trough bringing a S/SE-S change as the swell eases further.
Now, looking at Tropical Cyclone Seroja, the Fujiwhara Effect and Dosey Doe with Tropical Cyclone 27S, it looks like the swell potential has been reduced even further from Wednesday's analysis.
Seroja will absorb 27s after spinning around it, with it then making a beeline for Geraldton. While doing so, the swell generating fetch on its eastern flank looks to be slim and blocked by the Abrolhos Islands in any case.
Therefore unless north of Jurien Bay don't expect anything from this swell source...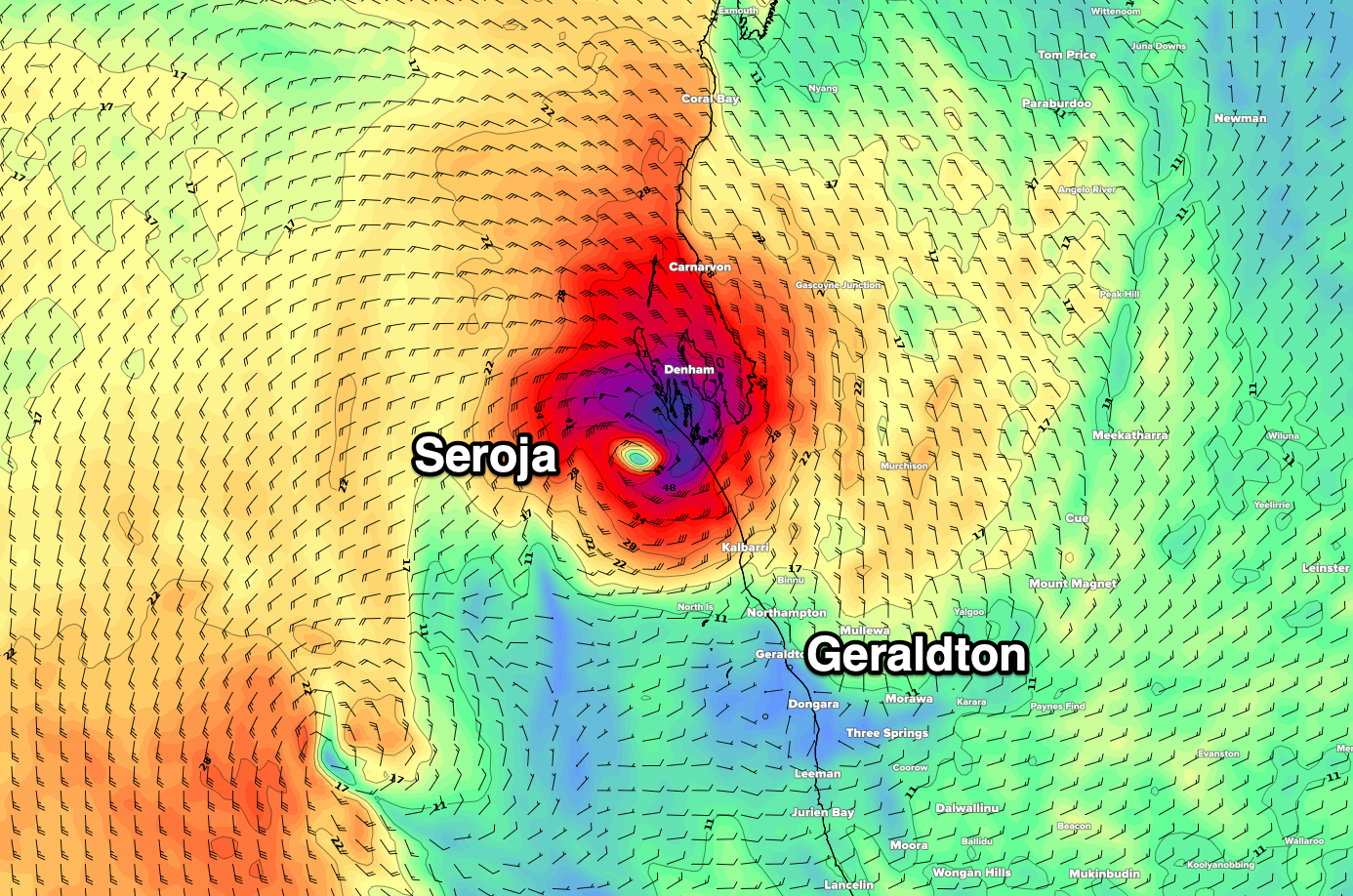 Looking back to our normal swell windows and the trough linked to Monday's change in winds will form a little low, with a burst of strong to gale-force S'ly winds due to kick up an acute, moderate sized S'ly swell for Margs to 6ft+ Tuesday, 2ft+ in Mandurah and possibly 2ft across Perth.
Winds will be poor in any case and strong from the S/SE. Wednesday looks cleaner but all the size will be gone. Longer term there's nothing too significant still showing on the charts but there is a hint of polar frontal activity late next week. More on this Monday. Have a great weekend!