Good swell for the weekend followed by tricky cyclone swell
Western Australia Surf Forecast by Craig Brokensha (issued Wednesday April 7th)
Best Days: Saturday in the South West, Sunday, unlikely Monday Perth and Mandurah
Features of the Forecast (tl;dr)
Small, mid-period SW swell for Thu with strong S/SE winds, easing Fri with strong SE winds
Large S/SW groundswell building Sat with strong though easing E winds, easing Sun with gusty E/NE tending NE winds
Trace of N/NW groundswell Mon with E tending S/SE winds
Recap
Clean surf across the South West the last couple of mornings, biggest yesterday and a touch smaller today. To the north tiny, clean waves have continued each morning.
This week and next (Apr 8 - 16)
We've got an interesting swell outlook when taking into account Tropical Cyclone Seroja off our North West, but before we get to that the coming week looks windy and average swell wise as Seroja and another unnamed Tropical Cyclone squeeze a strong high west of us.
This will bring strong S/SE winds tomorrow as the high edges east, SE on Friday. Swell wise, a mid-period and small SW swell should arrive late today and offer 4ft sets across the South West tomorrow, tiny to the north. The surf will then ease into Friday.
Looking at the weekend and we'll see winds swing more E'ly Saturday as the high moves under us, easing into the afternoon with strong E/NE tending NE winds on Sunday.
Swell wise, our long-period S/SW groundswell is still due, but the 'bombing' low linked to it looks to form a little later and further east in our swell window. This will result in less size, with a fetch of storm-force W/SW winds developing just within our swell window before pushing east of it.
We'll see the swell arriving Saturday morning, building rapidly to a peak late afternoon in the South West with sets to 6ft to possibly 8ft. Mandurah and Perth aren't expected to see much in the way of size with 1-2ft sets Sunday morning across the former, 1-1.5ft in Perth.
Margs will ease Sunday from the 6ft+ range. Monday will be smaller and a trough looks to bring a S'ly change.
Now, looking at Tropical Cyclone Seroja, it's currently south of Bali and will track south-west while intensifying and spinning around an unnamed Tropical Cyclone that's closer to the Australian mainland.
The two will do the Dosey Doe around each other, known as the Fujiwhara effect (spinning clockwise), with the unnamed cyclone forecast to be absorbed into Seroja during the weekend.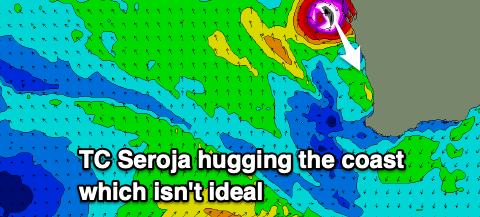 Tthis will be as the two start drifting south towards our swell window but there are a few concerns regarding Seroja generating any useful swell.
Firstly it will be positioned close to the coast and travelling parallel with it, south-southeast before moving inland across Geraldton. This will only see a slim fetch of N/NW winds aimed in our swell window but they look to be significant and gale to severe-gale force. There is also the Abrolhos Islands which look to shadow anywhere south of them.
As a result the swell will be very acute out of the N/NW and small in size, likely impacting only a select few locations. It'll be flukey but any size is likely Monday as the S/SE change moves through (E/NE through the morning in Perth and Mandurah).
It's a tricky system though, so check back here Friday for any improvement to this flukey cyclone swell.