Slow increase in size and energy
Western Australia Surf Forecast by Craig Brokensha (issued Monday March 15th)
Best Days: South West magnets tomorrow morning, Thursday, Friday and Saturday mornings in the South West, Sunday all locations, Monday morning protected spots
Features of the Forecast (tl;dr)
Small, mid-period S/SW swell for later today, peaking tomorrow with fresh E/NE tending NE winds, holding Wed with light morning S/SE winds
Better mid-period SW swell for late Wed but more so Thu with moderate to fresh S/SE-SE morning winds, easing a touch Fri with morning E/SE tending NE winds ahead of sea breezes
Stronger W/SW swell building Sun, easing Mon
Recap
Fun waves across the South West Saturday morning with clean 3-4ft sets and offshore winds, clean again yesterday but smaller. Locations further north like Mandurah and Perth were clean but tiny.
Today is small but clean again in the South West with waves on the swell magnets.
This week and next (Mar 16 - 26)
The coming week will consistent of building mid-period swells, the first and smallest for tomorrow will be topped by a better increase Thursday.
Tomorrow's swell isn't expected to offer much size, arriving out of the S/SW and keeping 3ft sets hitting the South West, similar Wednesday before fading Thursday. Perth and Mandurah will remain tiny to flat and unsurfable.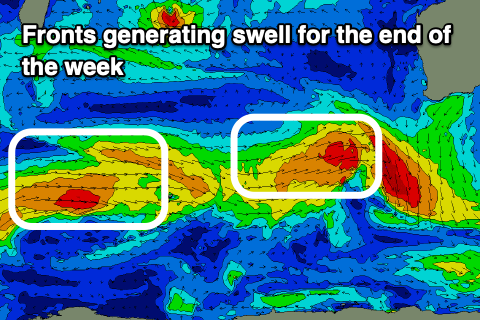 Conditions look great across the south swell magnets tomorrow morning with a fresh E/NE tending NE breeze, variable N into the late afternoon with weak sea breezes to the north. A trough will bring a change and light S/SE winds into Wednesday morning across the South West, E/SE further north.
Into Wednesday afternoon but more so Thursday we've got a fun, new, mid-period W/SW swell on the cards, generated by a relatively weak but favourable tracking mid-latitude front towards us today and tomorrow morning.
The swell should provide a bit more size in the South West with sets to 4-5ft+, 1-1.5ftin Mandurah and possibly Perth.
Winds look moderate to fresh out of the S/SE-SE on Thursday morning, creating OK conditions, cleaner Friday with a slight drop in swell and E/SE tending NE winds ahead of sea breezes.
The swell should hold around 3-5ft Friday in the South West owing to a secondary mid-latitude front pushing up from the west-southwest, though generating less favourable W/NW winds. This won't be great for locations to the north with tiny waves due in Perth and Mandurah.
Of greater importance is a slightly better front projecting up and towards us, slow moving and generating a weakening fetch of strong to near gale-force W/SW winds.
This will produce a moderate-large, mid-period W/SW swell for Sunday, building and reaching a peak into the afternoon to 6ft+ across the South West, 2ft in Mandurah and Perth.
Conditions at this stage look best in the morning with an E/NE offshore, giving into afternoon sea breezes, easing Monday with less favourable S/SE winds.
Following this the outlook goes quiet with easing surf and with unfavourable winds out of the south as a surface trough sits down in the South West. Therefore make the most of the coming days of swell and generally favourable winds.