Friday, 19 February 2021
XL groundswell inbound
Western Australia Surf Forecast by Craig Brokensha (issued Friday February 19th)
Best Days: Tomorrow morning in the South West, Sunday, Monday, Tuesday morning in the South West
Features of the Forecast (tl;dr)
Easing mix of swells tomorrow with a moning E/SE-SE breeze
XL, SW groundswell for Sun with fresh to strong morning SE winds
Easing SW swell with a reinforcing S/SW swell Mon with strong but easing morning E/SE winds, smaller Tue with morning E/SE winds
Large S/SW groundswell for next weekend
Recap
Choppy, stormy waves across all regions yesterday, large in the South West and sizey across Mandurah, 2-3ft in Perth.
This morning the weather and wind linked to the swell have pushed east with cleaner conditions and easing 6-8ft sets in the South West 2-3ft in Mandurah and Perth.
This weekend and next week (Feb 20 - 26)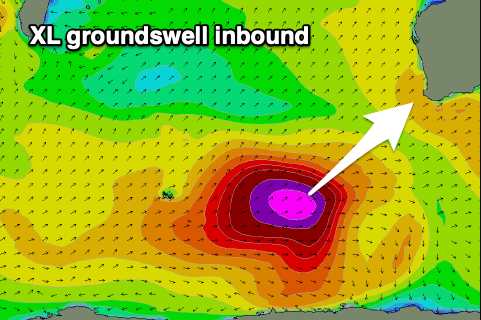 The swell from yesterday will continue to drop through tomorrow and conditions will be fun across the South West (small to tiny to the north) with a morning, E/SE offshore wind SE in Perth and Mandurah.
Moving into Sunday and our XL, long-period SW groundswell is on track, with the 'bombing' low linked to it now projecting a fetch of weakening severe-gale W/SW winds through our south-western swell window while moving towards the Bight.
There's no change to the expected size with the swell due to arrive Saturday evening, peaking Sunday with 12-15ft+ waves across the South West, 4ft in Mandurah and 3ft in Perth. It'll be a bit windy though mostly favourable with fresh to strong SE morning winds ahead of afternoon sea breezes (holding strong S-S/SE in the South West).
Monday should see straighter offshore E/SE winds, strong but easing ahead of sea breezes. Size wise, the swell should be easing but a little intensification of strong to gale-force SW winds on the tail of the weakening low should produce a S/SW swell that will slow the trend across the South West.
We should see easy 8ft sets across the South West, easing through the day with easing 2-3ft sets in Mandurah, 2ft across Perth. Tuesday looks fun again with E/SE offshore winds as the swell continues to ease back from 4-5ft in the South West, 1-2ft Mandurah and tiny Perth.
Longer term, a strengthening polar low to our south-west, late in our swell window is due to generate a significant fetch of storm-force winds. A large S/SW groundswell is due from this storm late Friday and Saturday next weekend along with morning SE winds, but more on this Monday. Have a great weekend!