Monday, 10 February 2020
Fun surf days this week and more to come early next week
UNLESS YOU LIVE AT THE BEACH, PLEASE DON'T TRAVEL TO SURF
COVID-19 is changing the way we think about surfing. Travelling to the surf now means you're putting an unnecessary strain on the resources of small regional communities. So, please stay home. If you live near the beach and want to surf, please maintain a healthy spacing in the lineup, don't hang in the carpark, and keep your surf sessions shorter to allow others the opportunity to get wet. Above all, stay happy, healthy and look out for one another.
Western Australia Surf Forecast by Craig Brokensha (issued Monday 10th February)
Best Days: Late morning onwards tomorrow in the South West, Wednesday, Thursday morning in the South West and Mandurah, Monday and Tuesday week
Recap
Nothing to surf Saturday, while a large new SW groundswell built through yesterday, best early across all breaks before winds shifted onshore and limited options further. Building surf from 2ft was seen in Perth and Mandurah, 6ft or so in the South West with a peak into the afternoon.
The swell eased back into today but was still an easy 6ft+ across the exposed breaks in the South West with cleaner conditions, 2ft+ in Mandurah and 2ft Perth.
This week and weekend (Feb 11 - 16)
We'll see the swell drop further into tomorrow with strong and tricky offshore E/SE winds, easing later and tending variable ahead of sea breezes and this will be the time to surf.
Perth and Mandurah look tiny and to 1-1.5ft, better in the South West with easing sets from 3-4ft.
Our new long-period SW groundswell for Wednesday is still on track, with the low linked to it late last week and over the weekend since breaking down.
There's been no real change to the expected size with sets to 6-8ft+ due across the South West swell magnets, 2ft to occasionally 3ft in Mandurah and 2ft across Perth.
Conditions look great with a fresh E/NE offshore tending variable ahead of weak sea breezes, with Thursday offering light E/SE winds (E/SE tending E/NE to the north) as the swell eases from 4-6ft across the South West, 1-2ft in Mandurah and 1-1.5ft in Perth.
Friday will become smaller again but with less favourable S/SE winds in the morning. Therefore make the most of Wednesday and Thursday.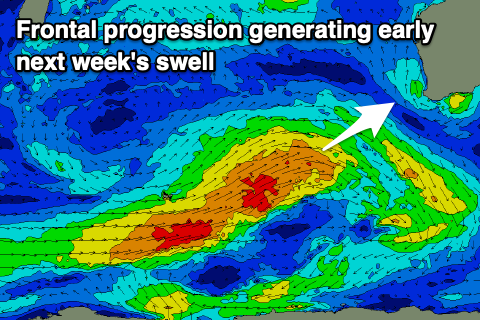 The weekend is looking poor as winds shift onshore as a mid-latitude frontal progression starts moving in from the west-southwest.
The progression will generate a great fetch of strong to gale-force W/SW winds up and close to us, through our western and then south-western swell windows. With such an elongated fetch we should see the swell lasting a bit longer than usual, building later Sunday but more so Monday and peaking to 6-8ft across the South West, 2ft to possibly 3ft in Mandurah and 2ft in Perth.
Winds at this stage are looking favourable and from the SE in the morning and strong S/SE into the afternoon, great Tuesday and out of the E/NE as the swell slowly eases. We'll have a closer look at this on Wednesday though.