Friday, 13 September 2019
Large weekend of surf, building again into mid-next week
Western Australia Surf Forecast by Craig Brokensha (issued Friday 13th September)
Best Days: Perth and Mandurah tomorrow, Margs later in the day, Sunday, Monday morning, Thursday and Friday
Recap
Small clean waves across Perth and Mandurah yesterday morning, onshore in the South West.
Today conditions were again OK across all locations with a large building W/SW groundswell, 6ft+ in the South West, 2-3ft Mandurah and 2ft Perth. We should see the swell continuing to build as winds swing N/NW, reaching 8-10ft+ in the South West, a consistent 3ft Mandurah and 2-3ft Perth.
Today's Forecaster Notes are brought to you by Rip Curl
This weekend and week (Sep 14 - 20)
This afternoon's large increase in W/SW groundswell will be reinforced by a larger SW groundswell tomorrow, with the South West peaking around 10-12ft in the morning, 3-4ft across Mandurah and 3ft in Perth but with onshore W/SW tending S'ly winds. Perth and Mandurah should be fun early with NE breezes, shifting onshore.
Try protected spots later tomorrow in the South West.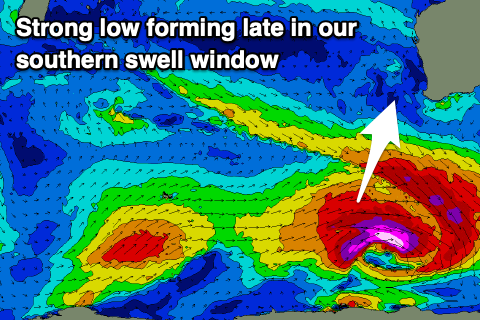 Sunday will become cleaner with winds now expected to go light E/SE across the South West, SE further north with large easing 8-10ft waves, 3ft in Mandurah and 2-3ft in Perth.
Monday looks great as well with a morning offshore E/NE breeze (afternoon sea breezes) and plenty of size, dropping from the 6ft range in the South West, 2ft Mandurah and 1-2ft Perth.
The size will continue to ease into Tuesday and onshore winds will create average conditions in Margs, more variable to the north but tiny.
Moving into the middle of next week, we've got a large new S/SW groundswell due Wednesday and then a close-range storm SW tending S/SW swell for Thursday/Friday.
The initial S/SW groundswell will be produced by a significant storm forming south-west of us on Sunday, with a severe-gale pre-frontal fetch of W/NW winds being followed by post-frontal severe-gale W/SW winds in our southern swell window.
A late increase in S/SW groundswell may be seen Tuesday, with a peak through Wednesday to 8-10ft across the South West, 2ft to maybe 3ft in Mandurah and 2ft in Perth. Winds and conditions will be poor though as a vigorous polar front pushes up and towards us, bringing strengthening W/NW winds on Wednesday.
The models diverge on the strength of the polar front pushing up towards us and hence the winds into Thursday, but either way we've got large SW swell Thursday with possibly improving S'ly winds. More on this Monday. Have a great weekend!