Inconsistent swells with generally favourable winds
Western Australia Surf Forecast by Craig Brokensha (issued Wednesday 23rd Novemeber)
Best Days: Swell magnets in the South West Thursday morning, Friday morning, early Saturday
Recap
Fun clean waves across all spots yesterday morning with 3-4ft sets in the South West and 1-1.5ft waves to the north.
This morning was similar in size and clean again with a fresher offshore in the South West.
This week and weekend (Nov 24 – 27)
A low point in swell is due tomorrow morning across the state, with inconsistent 3ft+ waves across swell magnets in the South West and tiny waves to the north.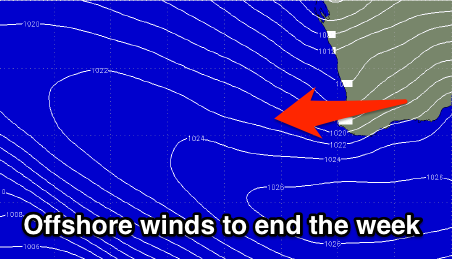 Into the afternoon an inconsistent W/SW groundswell is due, the first of two expected across the state into the end of the week.
This has been generated by a pre-frontal fetch of W/NW gales and should reach an inconsistent 3-5ft into the late afternoon. Perth isn't expected to get above 1ft.
The best pulse of swell is due into Friday afternoon, generated by a slightly better post-frontal fetch of W/SW gales.
Margs should build to a very inconsistent 4-5ft+ by dark, easing from a similar size Saturday morning, down further from 3-5ft Sunday morning. Again Perth probably won't see any major size with 1-1.5ft sets max at the swell peaks.
Winds tomorrow will be gusty from the E/SE to SE across Margs, tending S/SE through the afternoon.
Friday morning looks better with a fresh E'ly wind, easing into the middle of the day ahead of sea breezes.
Come Saturday you'll have to be quick as a dawn E/NE offshore is due to swing NE through the mid-morning and then NW midday ahead of an afternoon SW change, swinging back to the S/SE Sunday and being fresh to strong all day.
Next week onwards (Nov 28 onwards)
A very inconsistent long-range SW groundswell from under South Africa is due Monday, but sets are only expected to be around 3-4ft or so with a morning SE offshore.
Some slightly more consistent but similar sized surf is due Tuesday, biggest Wednesday, generated by relatively weak pre-frontal W/NW fetches through our swell window followed by a better aimed W/SW fetch.
Besides S/SE winds on Tuesday, offshore breezes are expected again Wednesday and Thursday, but more on this Friday.