Large swell with great winds
Western Australia Surf Forecast by Craig Brokensha (issued Monday 30th May)
Best Days: Tuesday, Wednesday, Thursday
Recap
Average onshore choppy waves Saturday with a building swell which peaked Sunday to a strong 3-4ft around Perth and 10ft in the South West with the cleanest conditions to the north with a light E'ly (SE around Margs).
This morning the surf was much cleaner in the South West and easing back from 4-6ft with 2ft waves around Perth.
This week (May 31 – Jun 5)
As Ben mentioned a couple of weeks ago when he took over, it's a little tricky coming in cold to a forecast, but I'll pick up where he left off.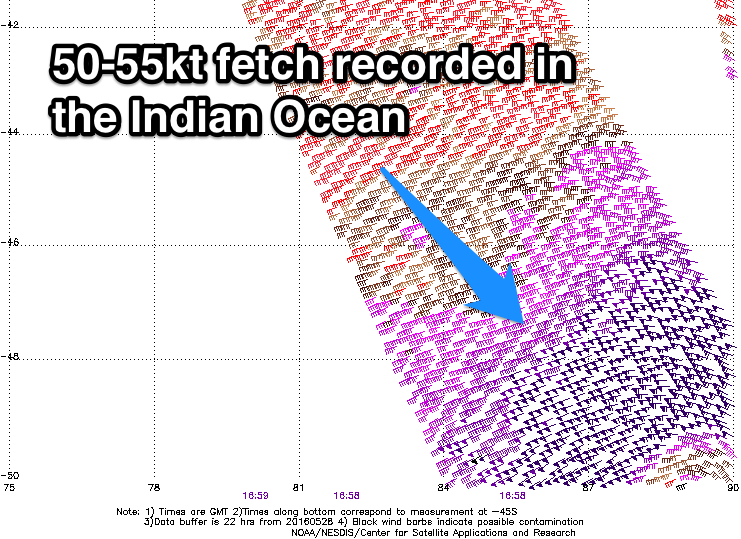 Our current W/SW groundswell is expected to continue to ease into this evening but from tomorrow morning, a strong new long-period and large W/SW groundswell is due to build rapidly and reach a peak into the late afternoon/evening.
This swell was generated by a very broad and vigorous polar frontal progression through the southern Indian Ocean the last few days, with satellite observations picking up a healthy fetch of 50-55kt W/SW winds.
A large long-period W/SW groundswell has resulted and there's no real changes to Ben's figures with exposed breaks in the South West due to reach an easy 10-12ft late, with 15ft+ sets at offshore bommies, and Perth should kick to 3-4ft late.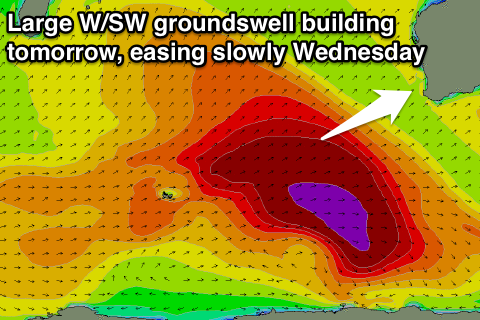 A touch less size is due Wednesday morning with the swell easing slowly through the day, further from Thursday but slowed by a reinforcing W/SW groundswell pulse from trailing fetches of W'ly gales on the backside of the progression.
The South West should still be offering 8ft sets, easing through the day and then 2-3ft in Perth.
Conditions tomorrow should be clean early with a light E/NE offshore tending NE through the morning and then variable through the afternoon across the South West, S/SW in Perth.
Wednesday then looks excellent with a light to moderate offshore E'ly breeze, tending variable from the SE through the afternoon. Fresher NE winds will then develop Thursday and likely tend to a better E/NE'ly mid-late afternoon.
Into the end of the week a new moderate to large sized W/SW groundswell is expected as another strengthening polar front generates a pre-frontal W/NW and then post-frontal W/SW fetch of gales.
This swell is due to build through Friday and reach 6-8ft in the South West and 2ft+ in Perth but with poor and strengthening N/NE winds.
This will be ahead of a fresh SW tending W/SW change Saturday creating poor conditions.
This looks to be the start of a run of poor onshore winds through early to mid next week, but have a check back here Wednesday for more on this.
In the meantime make the most of the coming swells and favourable winds but surf within your ability.