Small swells with unfavourable winds
Western Australia Surf Forecast by Craig Brokensha (issued Monday 8th February)
Best Days: Protected spots for marginal waves over the coming week, Sunday morning
Recap
Bumpy small waves Saturday with a S/SE wind and 3ft of swell, while Sunday was cleaner but still small.
Today a better SW groundswell has filled in with clean 3-5ft waves across the South West, while Mandurah saw 1-2ft sets but Perth remained tiny to 1ft.
This week and next weekend (Feb 9 - 14)
A flurry of relatively weak polar frontal activity is responsible for today's SW groundswell pulse. A slight drop in swell is due into tomorrow morning back more to the 4ft range across the South West ahead of an afternoon pulse in longer-range SW groundswell, holding through Wednesday to a similar 4ft.
Conditions will unfortunately be poor with a fresh S/SE'ly developing across the South West tomorrow morning, offshore from the E/NE but tiny around Perth through the morning. Wednesday will be a touch better with strong morning SE winds but options will be limited in the South West.
Thursday morning will see us fall in between swells again with moderate to fresh morning SE winds, with another weak pulse of SW swell due into the afternoon, easing Friday from another weak polar front firing up to our south-west tomorrow.
A kick back to 3-4ft+ is due across the South West, with Perth lucky to get above 0.5-1ft.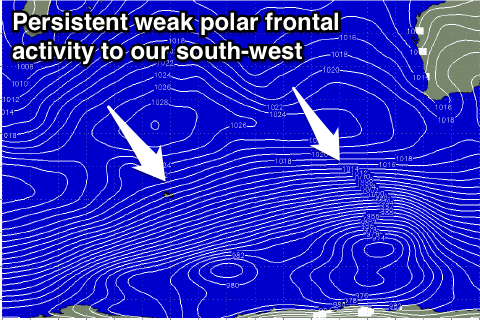 Unfortunately winds look to tend more back to the S/SE Friday morning as a new ridge of high pressure moves in from the west.
Into the weekend and early next week we'll continue to see small pulses of SW groundswell as the weak polar frontal progressions persist through our swell window.
The strongest of these is due Sunday to the 3-5ft range, with what at this stage looks to be offshore E/SE winds, but we'll have another look at this on Wednesday.
Longer term there seems to still be no end to the monotony, but lets check again Wednesday.