Great Tuesday, dicey winds to end the week with a good W/SW swell
Western Australia Surf Forecast by Craig Brokensha (issued Monday 8th June)
Best Days: Tuesday, dawn Wednesday spots that like a NE wind, Friday morning protected spots (early around Perth), the weekend exposed breaks
Recap
Fun clean conditions with variable winds around Perth and Gero early Saturday morning, while Margs saw poor conditions continue with a persistent onshore wind.
Sunday continued to be poor with a strong building swell in the South West, while Perth was clean and fun most of the day with variable breezes.
Today the SW groundswell is easing from 6-8ft in the South West with cleaner but lumpy conditions through the morning with a variable breeze, while Perth was much cleaner and dropping from 2ft to occasionally 3ft.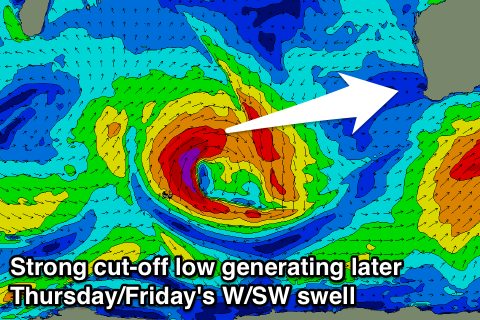 This week and weekend (Jun 9 - 14)
The weekend's easing SW groundswell will be reinforced by one final pulse of SW groundswell tomorrow, keeping inconsistent 6ft sets hitting the South West and 2ft waves around Perth and 4-5ft up in the North West (holding into Wednesday morning).
Morning E/NE winds are expected to freshen and then tend more NE during the afternoon before possibly easing back into the evening.
Come Wednesday the swell will be noticeably smaller with less favourable and fresher NE tending N/NE winds.
As touched on Friday, two inconsistent W/SW groundswell pulses are due into Thursday afternoon and Friday, generated by an intense but funky cut-off low in the southern Indian Ocean.
The latest updates have the western flank of this system stronger than was forecast on Friday with a fetch of severe-gale SW winds being generated in our swell window.
This should produce a strong but inconsistent W/SW groundswell for later Thursday and Friday morning. The South West should see good 6ft+ sets, with 2ft+ waves in Perth and 4-5ft surf at in the North West again.
Winds will unfortunately be poor across the southern regions with fresh to strong N/NE tending N/NW winds Thursday (E'ly tending NW further north) and then S/SW tending S/SW winds through Friday, although Perth is likely to see an early variable breeze. The North West should see good morning SE winds.
Into the weekend Friday's W/SW groundswell is expected to ease as winds improve and swing back to the E/SE.
A small and inconsistent SW groundswell is due Sunday but no major size is due off this system, with infrequent 3-5ft waves at swell magnets in the South West and 1ft waves in Perth.
Longer term there's nothing too major on the cards besides small to moderate pulses of swell with sometimes funky winds. We'll have a closer look at this on Wednesday though.