Average weekend, improving next week, best Wednesday
Western Australia Surf Forecast by Craig Brokensha (issued Friday 19th December)
Best Days: Sunday and Monday in protected spots, Tuesday onwards
Recap
The South West and Perth were the pick yesterday with a small uptick in SW groundswell and offshore winds providing clean 3-5ft waves around Margs and 1-2ft sets around the city.
Today the swell is smaller and winds still favourable for exposed breaks, with Margs the pick late morning when the offshores should back off a touch.
This weekend and next week (Dec 20 - 26)
From this weekend and through all of next week we should see inconsistent but moderate pulses of SW groundswell from sustained and broad but not overly strong polar activity from the Heard Island region, extending to our south and then further on under the country out of our swell window.
The first and one of the best pulses is due tomorrow, peaking through the morning to 3-5ft in the South West, 1-1.5ft in Perth and 3ft on the sets up at Gero.
A slight drop back in size and intensity is then due into Sunday through Tuesday to 3-4ft, 1ft and 2-3ft respectively.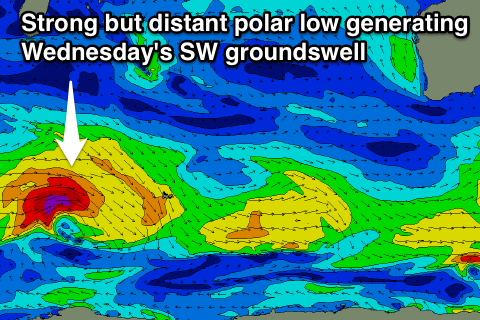 The strongest increase is due on Wednesday morning and this is currently being produced by a strong polar low west of Heard Island. A fetch of gale to severe-gale W/SW winds are being generated through our far swell window, with the low expected to weaken slowly while pushing east closer to us.
An inconsistent but strong SW groundswell should result, arriving late in the day Tuesday across the South West ahead of a peak Wednesday morning. The South West should see inconsistent 5-6ft sets with 1-2ft waves in Perth and 3-4ft up at Geraldton.
From here a slow drop in size is due, bottoming out Friday afternoon.
Now, winds are looking good for the coming swell pulses next week after average and strong S/SE winds tomorrow (S/SW up at Gero) and better but still stiff SE winds Sunday.
From Monday and more so Tuesday we should see winds kicking around to a straighter offshore as a deepening inland heat trough slips offshore to our north.
So we should see SE winds around Margs and Perth Monday (E/SE up at Gero) and then E/SE winds Tuesday and Wednesday with the new swell. Thursday and Friday look good on the backside of the swell with straighter E'ly winds from Perth North. We'll confirm this Monday though.
Longer term we're looking at a better run of more substantial swell as a series of strong frontal systems fire up in the Indian Ocean. The only issue with these stronger frontal systems is that they won't be tracking ideally through our swell window, more perpendicular to the great circle path, but more on this Monday. Have a great weekend!