Average few days, great Tuesday morning
Western Australia Surf Forecast by Craig Brokensha (issued Wednesday 29th October)
Best Days: Friday morning around Margs, early Saturday exposed spots, Tuesday all locations, early Wednesday all locations
Recap
Conditions improved across most spots as the morning progressed yesterday with straightening offshores and a smaller easing swell.
Today the surf was very average with the swell bottoming out across most locations with onshore winds, something we haven't see for a while across the state.
This week (Oct 30 - 31)
The end of the week isn't looking too flash. A new SW groundswell is due to build through tomorrow, but besides a possible period of variable winds in the South West at dawn, conditions will be poor across all spots with a fresh SW'ly that will then swing more W'ly through the day.
Friday should reveal a peak in size across all coasts, to 4-6ft in the South West, 1-2ft in Perth and 3ft+ up at Gero but a S/SE change early Friday morning only looks to make it to Margs, with onshore S/SW winds continuing in Perth, while Gero should see workable S/SE winds.
This weekend onwards (Nov 1 onwards)
The weekend will be cleaner but slow with Friday's swell expected to ease off and bottom out Sunday afternoon.
Winds should be favourable and offshore from the NE during the early morning before swinging onshore through the afternoon and then strengthening from the NW through Sunday. Perth and Gero should see variable winds early before this NW'ly kicks in but there won't be any size to get stuck into.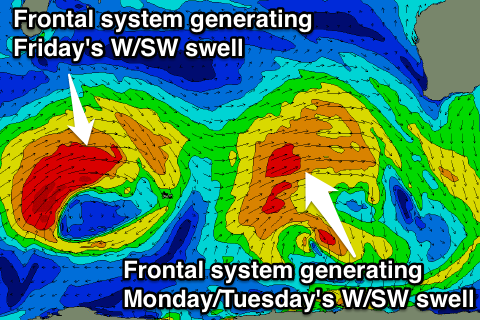 From next week the outlook is a lot more positive with a node (peak) of the Long Wave Trough moving through the Southern Indian Ocean during the weekend and early next week expected to set in motion a couple of stronger frontal systems towards us.
The first front will reach quite north in latitude, aiming a fetch of strong to gale-force W/SW winds towards us.
This front and swell should arrive overnight Sunday and build Monday, peaking Tuesday morning out of the W/SW.
The South West should see 6-8ft+ surf, 2-3ft waves in Perth and 4-6ft sets up at Gero as winds swing from an onshore S/SW'ly Monday around to the E/SE Tuesday morning (SE around Gero).
Wednesday looks good as well as the swell eases with early morning offshores but a change is due through the morning.
A secondary longer-period W/SW groundswell is due into the end of the week, generated by a stronger but more distant frontal system firing up south-east of Madagascar Sunday. This system will have two stages, an initial strong push towards us Sunday/Monday, before weakening and being replaced by a secondary smaller system pushing closer towards us Tuesday/Wednesday.
A similar sized swell should result though for Friday but winds don't look as favourable with a SE tending SW breeze likely. We'll review this all again on Friday.