Thursday for the best waves, small window early Friday
Western Australia Surf Forecast by Craig Brokensha (issued Monday 30th June)
Best Days: Thursday, early Friday
Recap
Fun waves were seen across all coasts over the weekend with a good easing SW groundswell from Friday and offshore winds. Saturday was best in the South West and early Sunday before winds tended more NE.
Today conditions were average in the South West with a N/NE wind, small peaky waves on the Perth beachies and good clean 2-3ft waves up at Gero.
This week (Jun 30 – Jul 4)
Tomorrow will be worth giving a miss unless you're up around Gero as N/NW winds will create poor conditions in the South West, N/NE winds around Perth will lead to average waves, but Gero should see an offshore NE'ly early.
Wednesday's late kick in large W/SW groundswell is still on track with the strong polar frontal progression pushing through the Indian Ocean later last week and into the weekend.
This system has since broken down, but a weaker frontal system shedding off the progression will push through Wednesday, bringing onshore W'ly tending SW winds as the swell kicks.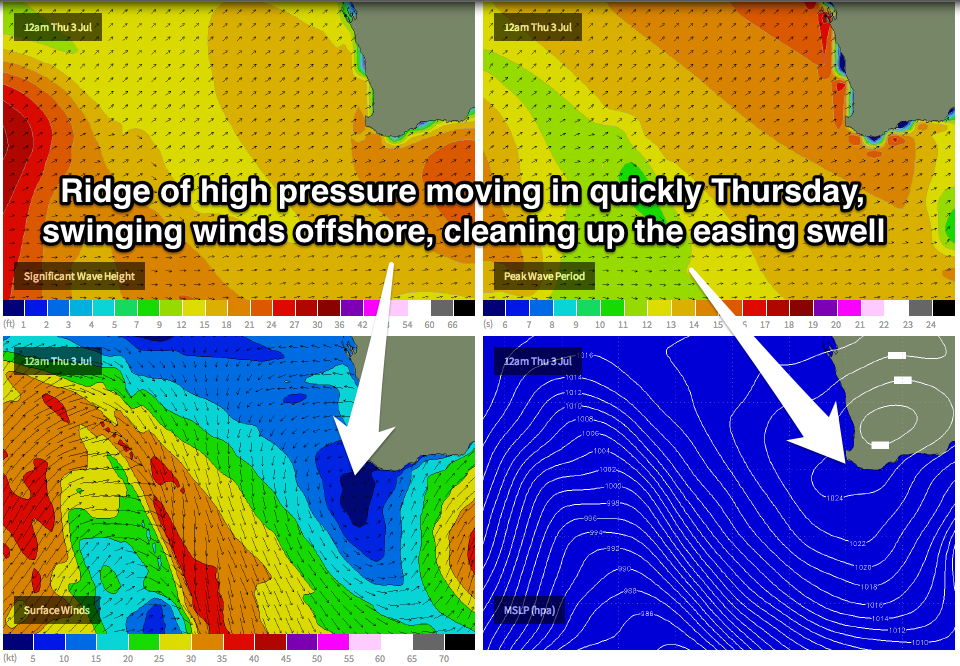 Fortunately this front will move off rapidly to the east and with that we'll see a ridge of high pressure sliding in, creating variable winds in the South West that are likely to tend light offshore.
Further north Perth and Gero should see E/SE tending E/NE winds, creating great conditions. Size wise, Margs should ease from 8ft to possibly 10ft early, 2-3ft in Perth and 4-6ft around Gero.
Into Friday conditions will become poor again as another mid-latitude front quickly pushes in from the west, swinging winds from an early fresh N/NE'ly around to the NW during the day.
This weekend onwards (Jul 5 onwards)
The weekend is looking poor with Friday's cold front moving through, bringing onshore W/NW winds Saturday (there is possibly a small window of variable winds through the morning) and then stronger NW winds Sunday with a large new W/SW groundswell.
Conditions aren't expected to improve at all into the following week as a strong node of the Long Wave Trough moves in and across us, steering a vigorous polar front up and into us. This should generate a large increase in swell but with poor winds initially. As the front moves off to the west we should see better surf, but we'll review this Wednesday.