Smaller weekend, with large onshore swells Tue/Wed/Thu
Western Australia Surf Forecast by Craig Brokensha (issued Friday 13th June)
Best Days: Saturday morning, Sunday morning around Perth and Gero
Recap
A dropping swell and improvement in conditions was seen through yesterday across all coasts with winds remaining favourable all day around Margs, while sea breezes surfaced further north.
Today the swell was back to a clean 3-5ft in the South West, 1-2ft in Perth, while Gero cleaned up through the morning as winds swung offshore with 3-4ft of swell.
This weekend (Jun 14 -15)
Tomorrow is expected to start out smaller than today but a late kick in new SW groundswell is due through the afternoon in the South West to 3-5ft before backing off from a similar size Sunday morning. Perth isn't expected too see much size above an inconsistent 1ft to occasionally 2ft Sunday, while Gero should increase to 3ft+ into the afternoon.
Winds should bee offshore and from the E/NE early tomorrow across most spots, but an afternoon swing to the NW is due around Margs.
Sunday looks a little less ideal with N/NE tending N/NW winds around Margs, and slightly better NE winds to the north.
Next Monday onwards (Jun 16 onwards)
Monday and Tuesday will be days too miss with a small to tiny swell on the former and fresh N/NE tending stronger N/NW winds, while Tuesday will see a late kick in large W/SW groundswell but with strong NW tending W/SW winds.
Tuesday's late kick in large W/SW groundswell is expected to peak Wednesday, generated by a vigorous and long-lived frontal progression beginning its life under South Africa yesterday and moving east through the Indian ocean before moving to a position just off our coast early next week.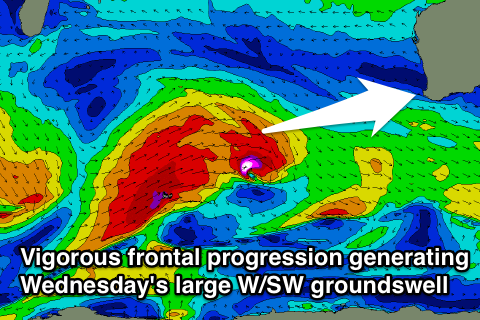 A series of broad and elongated severe-gale W/SW winds will be aimed towards us, with the large swell due to peak Wednesday morning to 10-12ft in the South West, 3-4ft in Perth and 6ft to occasionally 8ft in Gero. The models seem to be overcooking the size slightly as it combines a local windswell from the front crossing the coast Tuesday night.
With this front and peak in swell winds are looking poor and onshore from the SW tending W/SW as a secondary front rears up and into us during the day. This will keep onshore winds from the SW into Thursday as the swell backs off with Friday morning offering more variable breezes in the South West and local offshore further north.
We should see a reinforcing swell for Friday as well but only in the medium-large size range. Longer term there's a couple of swells sources of the cards for next weekend onwards. The models diverge on how a vigorous polar front will track when it nears our coast later next week, with a couple of solutions going for a cut-off low, which isn't great for us. We'll review this Monday though, have a great weekend!