Improving conditions with a dropping swell, best Friday
Western Australia Surf Forecast by Craig Brokensha (issued Wednesday 11th June)
Best Days: Thursday morning, Friday, Saturday morning, Sunday around Perth and Gero
Recap
A large and powerful SW groundswell filled in yesterday across the state, building to a solid 8ft+ across the South West, 3ft in Perth and 4-6ft around Gero but with strong S-S/SW winds.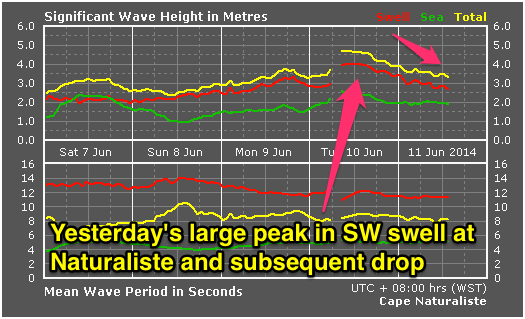 Today the swell has eased rapidly and winds remained poor in the South West and from the S'th, while further north around Perth conditions were better with a light E'ly. Gero was average but workable with an easing swell from 4-6ft and fresh S/SE winds.
This week (Jun 11 -13)
A strong reinforcing S/SW groundswell expected for this afternoon across the South West should slow the easing trend in swell through tomorrow and Friday as winds slowly improve.
The South West should still offer 6ft sets tomorrow morning, with 2ft+ waves around Perth and a dropping 3-5ft swell around Gero.
Winds will be best around Perth with a fresh E/SE'ly, while Gero may see a touch more SE direction in the breeze, as well as Margaret River.
Friday will be great as the swell continues to ease under E/NE tending variable winds.
This weekend onwards (Jun 14 onwards)
Over the weekend a new S/SW groundswell is due to fill in later Saturday afternoon and then ease Sunday, generated by a polar front skirting around the southern flank of a strong high to our south-west, on the periphery of our swell window.
No major size is expected with the South West likely to pulse back to 4-5ft later in the day before easing from 3-5ft Sunday morning. Perth may see 1-2ft waves Sunday morning ahead of a drop through the afternoon while Gero should pulse to 3ft+ through the day.
Winds will be best around Perth and Gero over the weekend with E/NE tending variable or NE winds for the most part, while Margs looks less inviting with NE tending N/NW winds Saturday and freshening NW winds Sunday ahead of an approaching front.
As touched on last update, a couple of large W/SW swells are due into the middle of next week as a series of vigorous mid-latitude fronts fire up from the south-western Indian Ocean and push all the way towards us over the coming days and weekend.
An initial long-period W/SW groundswell is due to arrive Monday afternoon but without much size ahead of a larger increase through Tuesday and then the largest pulse Wednesday morning.
Winds for Tuesday's increase look average and onshore from the W tending S/SW with a passing front, while Wednesday looks dicey with SE winds around Perth and Gero but a possible lingering SW'ly in the South West.
Into the end of the week the swell should drop as winds swing to the NE with nothing too major due until possibly Sunday, but we'll review this again Friday.