Excellent Long Weekend of surf
Victorian Surf Forecast by Craig Brokensha (issued Friday June 9th)
Best Days: This afternoon Surf Coast, Saturday, Sunday, Monday exposed beaches, Tuesday morning exposed beaches early for the keen
Features of the Forecast (tl;dr)
Moderate sized, mid-period W/SW swell peaking Sat AM, with a large, strong but inconsistent SW groundswell building into the PM
Gusty N/NW-NW winds tomorrow
Large, easing SW groundswell Sun with N/NW tending variable winds to the west, N/NW tending N/NE to the east
Moderate sized, easing swell Mon with gusty N/NE winds
Smaller Tue with strong N tending N/NW winds
Small W'ly swell for Tue PM, holding Wed with strong W/NW winds
Fading surf Thu with N/NW winds
Recap
The surf remained tiny across the Surf Coast yesterday with strengthening offshore winds, while a small pulse of westerly swell offered more consistent 2ft sets to the east with favourable conditions through the morning.
Today a weak mid-period W/SW swell is on the build, 2ft and clean this morning on the Surf Coast, with more size to 3ft+ due to develop through the day as winds hold out of the W/NW-NW.
This weekend and next week (Jun 10 - 16)
Today's building W/SW swell energy is thanks to the remnants of a strong polar low (bringing tomorrow's SW groundswell) weakening and racing through the Bight.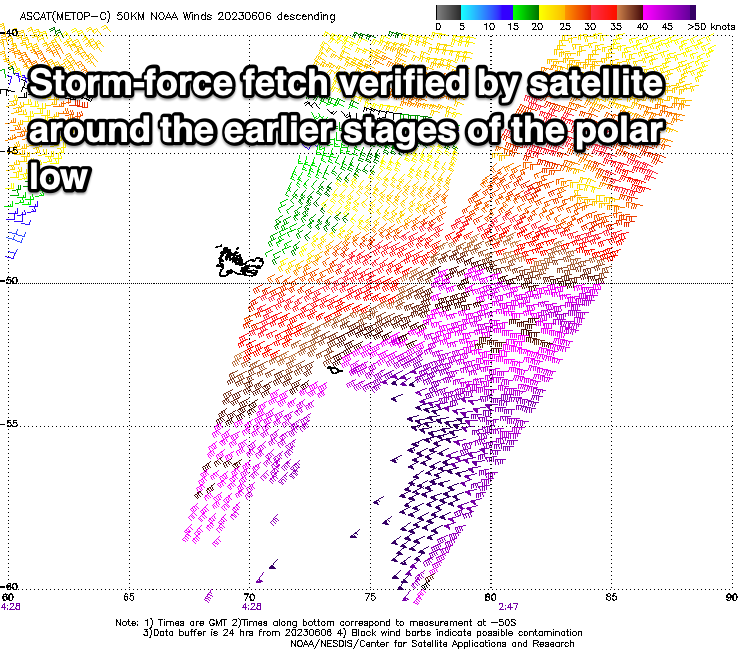 This saw a broad fetch of strong to gale-force W/SW winds projected through our western swell window, producing a moderate sized mid-period W/SW swell that's building today and should peak tomorrow morning.
We should see the Surf Coast reaching 3ft+ this afternoon with 5-6ft sets to the east, with tomorrow morning coming in at 3-4ft and 6ft+ respectively.
Through the day though we'll see a less consistent but strong SW groundswell signal arriving, building into the afternoon and peaking through the evening.
The source was the initial polar low with severe-gale to storm-force W'ly winds generated through our far swell window, still maintaining gale to severe-gale while projecting north-east towards Western Australia.
It'll be inconsistent but we should see strong sets muscling up to 6ft on the Surf Coast magnets right on dark tomorrow with 8ft sets to the east, easing back from 5-6ft and 6-8ft respectively on Sunday. We can't rule out the odd bigger bomb pushing through at the peak of the swell though this looks to be under the cover of darkness.
Now compared to the recent weeks of swell, these sets will be much more inconsistent so keep that in mind and be patient.
Local winds look excellent for the Surf Coast and selected spots to the east with gusty N/NW-NW breezes due to persist all day, with Sunday seeing N/NW winds persisting all day on the Surf Coast, light into the afternoon and N/NW tending N/NE winds to the east.
Monday will see the swell tailing off more noticeably, easing back from 3ft to possibly 4ft on the Surf Coast, 4-5ft+ to the east and with fresh, gusty N/NE winds that will favour the exposed beaches.
Tuesday will become smaller and stronger N tending N/NW winds will limit options. Unfortunately following this, the rest of the week looks void of any major swell energy.
A mid-latitude low forming off the South West of Western Australia will generally be too far north and unfavourably positioned in our swell window to generate any decent swell.
Small pulses of acute W'ly swell are due from Tuesday afternoon and Wednesday, fading Thursday but with the low moving in and across us, strong W/NW winds on Wednesday won't favour the exposed beaches and the Surf Coast looks small to tiny (possibly 1-2ft).
Winds will swing more N/NW on Thursday but the westerly swell will be fading.
Longer term a stronger frontal progression firing up towards Western Australia during early-mid next week, will stall to the west, producing a moderate sized, prolonged W/SW groundswell for next weekend with what looks to be winds from the western quadrant (NW Saturday and W Sunday). We'll have a closer look at this on Monday though, have a great weekend!