Make the most of the coming Surf Coast windows
Victorian Surf Forecast by Craig Brokensha (issued Monday 28th November)
Best Days: Today protected spots, Wednesday morning protected spots, Thursday afternoon and Friday morning selected spots, beaches Saturday morning
Features of the Forecast (tl;dr)
Moderate sized + SW swell today, easing later with mod-fresh W/NW tending W winds
Moderate sized mid-period SW swell tomorrow, building a little later with gusty W/SW-SW winds (likely W-W/NW for a period early on the Surf Coast but lumpy and raw)
Moderate-large SW groundswell peaking Wed with W/NW-NW tending S/SW winds late AM
Large SW groundswell building Thu, peaking in the PM with moderate S-S/SE winds
Easing moderate-large SW groundswell Fri with E/SE tending S/SE winds
Easing surf Sat with N/NE-NE winds
Small new swell Sun PM with developing S/SW winds (N/NE in the AM)
Recap
Pumping surf on the beaches from later morning Saturday with a good pulse of mid-period SW swell energy under favourable winds for exposed spots. Consistent 4ft waves were seen east of Melbourne, smaller but still fun on the Surf Coast.
Yesterday was average with a drop in size and W'ly winds, linked to a cold front pushing up towards us.
Today, we've got a mix of swells in the water, a mix of longer-range and close-range energy. It has come in above expectations with 4-5ft sets breaking on the Surf Coast magnets under offshore winds. The extra size looks to have been generated by yesterday's front, with a fetch of W/SW-SW gales being a little stronger than forecast on Friday. Winds should remain favourable most of the day for the Surf Coast as the swell starts to ease.
This week and weekend (Nov 29 – Dec 4)
Today and Wednesday are the pick of the week across the state with winds otherwise being less favourable through tomorrow and into Thursday/Friday.
Today's bigger than expected pulse of size was generated by a strong frontal system moving through our close-range swell window yesterday, and behind this we've got another two significant swell producers.
The first is currently generating a drawn out fetch of W/SW-SW winds to our south-west, strongest on its tail. This will result in mid-period SW energy filling in tomorrow ahead of a stronger groundswell on Wednesday.
Now, one final storm following the current progression has been upgraded in strength with a significant low now forecast to form, generating a fetch of severe-gale to storm-force W'ly winds through our south-western swell window.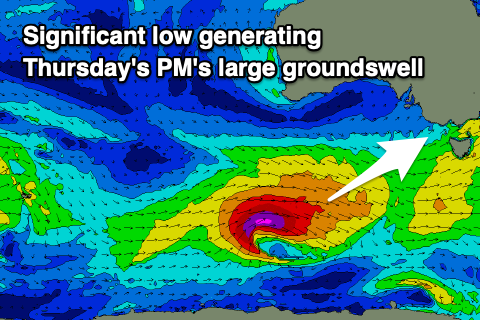 The Surf Coast should still be 4ft on the sets across the magnets tomorrow, likely strengthening a little in size and period into the late afternoon with 5-6ft sets to the east.
Wednesday should then see 4-6ft waves on the Surf Coast and 6-8ft sets to the east as the groundswell peaks.
Locally winds are't too flash tomorrow with a gusty W/SW-SW tending S/SW breeze with a short period of early W-W/NW winds likely across the Surf Coast. Regardless the surf will likely be lumpy and not as good as this morning.
Wednesday morning looks great with a light offshore W/NW-NW wind shifting S/SW late morning as a trough clips us.
This trough will be followed by a high and with that S-S/SE winds on Thursday as our largest pulse of SW groundswell arrives. With the fetch of severe-gale to storm-force winds, we'll see large sets building to 6ft+ on the Surf Coast and 8ft on the Mornington Peninsula.
A peak is due through the afternoon, easing back on Friday from 4-5ft+ and 6ft to nearly 8ft respectively. Winds will start to improve as the high moves under us, but with the size of the swell and an E/SE-E morning breeze, options will be limited.
The weekend looks better with a N/NE offshore and smaller fading surf, back from 2-3ft early on the Surf Coast and 3-4ft to the east.
Besides a small lift in mid-period swell on Sunday it looks like we'll see a return to normal summer programming wind and swell wise through next week. A couple of deepening inland troughs, squeezing high pressure to our south will result in an average outlook. Therefore make the most of the current conditions and swell.