Windy weekend of smallish surf
Victorian Surf Forecast by Craig Brokensha (issued Friday 15th July)
Best Days: Today Surf Coast, tomorrow for the keen (but tricky with the wind), Surf Coast Sunday for the keen, Thursday and Friday next week exposed beaches
Features of the Forecast (tl;dr)
Easing mix of W/SW and SW swells tomorrow with strong N winds (possibly N/NW at times to the east)
Reinforcing mid-period SW swell arriving mid-morning tomorrow
Easing SW swell Sun with a building W windswell under strong NW tending W/NW winds
Mod-large S/SW groundswell building Mon (peaking later) with strong S/SW tending S winds
Easing S/SW swell Tue with gusty E/SE winds
Easing S/SW swell Wed with E tending E/SE winds
Cleaner conditions later next week for the beaches with small fun swells
Recap
Weak, but cleaner and easing 1-2ft waves on the Surf Coast yesterday, average to the east but workable as winds tended variable through the day.
Today a mix of new mid-period W/SW swell and flukier SW swell are in the water offering fun 2-3ft waves on the Surf Coast and 4ft waves to the east. Conditions will improve to the east later this afternoon as winds ease, but it'll still be lumpy and bumpy.
This week and weekend (Jul 16 - 22)
As we head into the weekend, today's mix of W/SW and SW swell are due to ease back temporarily early tomorrow, but a similar sized, reinforcing pulse of mid-period SW swell should arrive by mid-morning. The Surf Coast looks to be 2ft, with 3-4ft sets to the east.
The source of the reinforcing swell was a patchy fetch of strong to gale-force W/SW winds around a polar front yesterday and it should boost wave heights back to 2-3ft on the sets across the Surf Coast magnets, 4ft+ to the east.
Winds will be tricky and strong from the N'th all day tomorrow, tending N/NW at times to the east, so not ideal and adding lots of bumps and chops to the exposed beaches.
Sunday looks smaller with the swell easing back from 2ft+ on the Surf Coast and 4ft to the east but with strong NW tending W/NW winds ahead of a SW change late evening.
There might be some localised W/SW windswell building into the afternoon and later in the day but it'll be low quality.
Now, this change into Sunday evening will be attached to a significance polar outbreak, with a great fetch of gale-force S/SW winds due to be projected up through our southern swell window, and then across Tasmania on Sunday.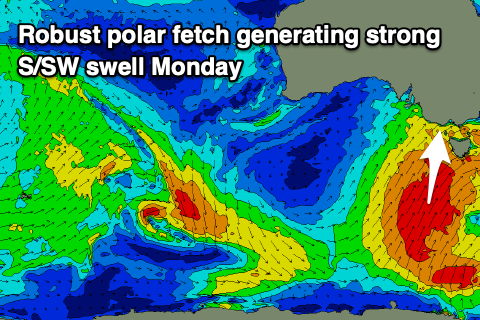 This will generate a moderate-large sized S/SW groundswell for Monday, building through the day and peaking later afternoon to 5-6ft on the Surf Coast and 6-8ft to the east. Conditions will be a mess though with strong S/SW tending S winds as a high moves in behind the polar front, E/SE on Tuesday as the swell eases.
We'll see the high slowly pushing east through next week, swinging winds more E'ly on Wednesday but only E/NE-NE offshore by Thursday. Swell wise the S/SW energy will ease steadily and there's not much expected to be left in the tank on Thursday with 2-3ft waves on the exposed beaches east of Melbourne.
We may see a small, new S/SW groundswell for Thursday afternoon from a small polar low, but we'll have a closer look at this Monday.
Longer term we've looking at a run of favourable N/NE winds and some distant groundswell later next weekend and into the following week, but check back here Monday for the latest. Have a great weekend!