Winter beachy options
Victorian Surf Forecast by Craig Brokensha (issued Wednesday 6th July)
Best Days: Today, Sunday on the beaches, Monday on the beaches for the keen but windy
Features of the Forecast (tl;dr)
Easing mid-period S/SW swell this afternoon and further tomorrow with fresh W/NW tending strong SW winds
Moderate sized SW-S/SW windswell for Fri with strong SW winds
Easing SW windswell Sat with some inconsistent, small mid-period SW swell. Moderate S/SE winds, possibly becoming lighter through the day
Slightly better, inconsistent mid-period SW swell Sun with N/NE tending NE winds
Easing SW swell Mon with strong N/NE winds
Small Tue with W/NW tending W/SW winds
Recap
Poor waves across most locations yesterday with a gusty onshore S/SE wind on the Surf Coast and 2ft of swell, bumpy and average across the Mornington Peninsula. Phillip Island saw lighter winds and cleaner conditions but today is much better.
A fun pulse of new mid-period S/SW swell has filled in roday under light offshore winds. The Surf Coast is 2-3ft and peaky with some localised windswell left in the mix from yesterday's blow, while the Mornington Peninsula is clean and straight to 4ft+ on the sets. Winds should hold all day as the swell eases.
This week and weekend (Jul 7 - 10)
Today is one of the days of the period so make the most of it. Winds will remain favourable all day for the beaches as the current S/SW swell eases.
Tomorrow will be smaller and winds will shift to the W/NW ahead of a tough and strong afternoon SW change.
The Surf Coast will be clean in the morning but a small 1-2ft.
This trough is a touch stronger than forecast on Monday but still weak when compared to a proper cold front and it'll generate some weak, localised SW-S/SW windswell for Friday to 3ft+ on the Surf Coast and 4-6ft to the east. Winds will be poor though and strong from the SW with little to no chance of early W'ly winds west of Melbourne. Even if they did swing that way the swell will be weak and poor in quality.
The windswell will ease through Saturday under S/SE winds as high starts to move in from the west. There might be a period of more variable winds through the day but again the swell will be low in quality.
There should be some inconsistent, mid-period SW swell in the mix Saturday and more so Sunday morning, generated by a distant but healthy polar frontal progression to the south-west of Western Australia the last two days.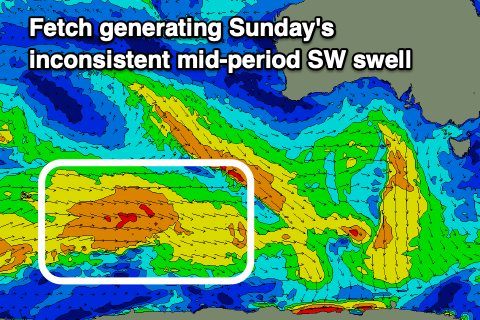 This should provide 2ft waves on the Surf Coast Saturday with 3-4ft sets to the east, a touch stronger Sunday morning to 2ft to possibly 3ft west of Melbourne, 3-5ft to the east.
Conditions look great for the beaches with a light N/NE tending NE breeze, well worth a surf.
Moving into next week, the weekend's mix of swells will be on the ease and stronger N/NE winds will create tricky conditions.
The strengthening winds will be linked to an approaching series of strong but weakening mid-latitude fronts up and across Western and South Australia. They'll not be great for swell generation at all, with small levels of acute W'ly swell due mid-late week but with deteriorating SW-S/SW winds in the wake of the activity. There's still no major Southern Ocean frontal activity on the radar but check back Friday and next week for further updates.