Good swell pulses with tricky winds
Victorian Surf Forecast by Craig Brokensha (issued Wednesday 29th June)
Best Days: Today, tomorrow morning, selected locations to the east Friday morning
Features of the Forecast (tl;dr)
Easing mix of small W/SW and SW swell tomorrow with N/NW winds ahead of weak sea breezes
Building mix of S/SW groundswell and mid-period S/SW energy Fri with fresh S'ly winds (lighter N around the eastern end of the MP and PI)
Easing mix of swells Sat with S/SW winds (possibly W'ly early for a period on the Surf Coast)
New mid-period S/SW swell Sun with moderate S/SE winds
Stronger S/SW groundswell Mon with winds uncertain
Recap
Improving waves east of Melbourne yesterday with easing sets from 3-4ft, best into the afternoon and a peaky 3ft. The Surf Coast was clean but small and easing back from the 2ft range.
Today a new W/SW groundswell is filling in with workable winds to the east early and good 3-4ft sets, 2ft on the Surf Coast with plenty of options.
We should see the swell peaking this afternoon to 2ft to possibly 3ft on the Surf Coast magnets and 4-5ft to the east as winds shift more N/NW east of Melbourne.
This week and weekend (Jun 30 – Jul 3)
Today's spike of W/SW groundswell will ease back in size through tomorrow, though a small, reinforcing pulse of SW swell is due and should maintain 2ft+ sets on the Surf Coast with 4ft waves to the east in the morning, smaller after lunch.
Conditions will be workable across both regions again with a light N/NW breeze east of Melbourne and N/NW winds on the Surf Coast. A trough moving in from the west looks to be delayed with light onshore winds due into the afternoon.
Overnight a more convincing S/SE change is due, spoiling conditions across most locations into Friday with fresh S'ly breezes due, but we'll more than likely see the Phillip Island region and eastern end of the Mornington Peninsula offering more variable N'ly winds during the morning as the trough axis stalls before shifting more east into the afternoon, bringing S/SW breezes. There's a chance the Surf Coast also sees these variable winds so keep an eye on the local weather stations.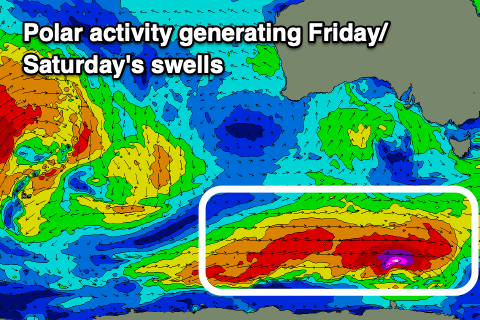 Swell wise a good mix of mid-period S/SW energy and stronger S/SW groundswell are due to arrive through the day, generated by a healthy polar frontal progression that's currently taking place south-west of Tasmania.
A slim fetch of severe-gale to storm-force W'ly winds have generated the groundswell with trailing fetches of strong SW winds due to generate the mid-period swell.
The Surf Coast should build to 3-4ft but with those poor winds, with building surf to 5-6ft east of Melbourne.
The weekend unfortunately looks poor as we see the trough starting to deepen across the southern NSW coast, squeezing a strong high pushing in from the west. This will bring moderate S/SW breezes on Saturday and S/SE winds on Sunday but without any major strength.
There's the chance of an early W'ly on the Surf Coast Saturday morning along with easing levels of S/SW swell from 3ft+ (4-5ft to the east).
Some new mid-period S/SW swell is due to fill in Sunday ahead of a stronger pulse of S/SW groundswell Monday, generated by persistent trailing polar frontal activity south of the country later this week and weekend.
Sunday's should see the Surf Coast holding 3ft on the sets with 4ft to occasionally 5ft waves to the east but with that moderate S/SE breeze, while Monday's swell will be produced by a strong but fast tracking low, generating severe-gale to storm-force W'ly winds.
This should provide larger 4ft sets on the Surf Coast and 5-6ft sets to the east. Winds are still a little undecided as the models diverge regarding the movement and intensity of the low off the East Coast so check back here Friday for a clearer idea on whether we'll see lighter, more favourable breezes.
Longer term the outlook remains substandard, but more on this Friday.