Great run for the beaches
Victorian Surf Forecast by Craig Brokensha (issued Monday 1st November)
Best Days: Beaches tomorrow, beaches Wednesday, Saturday and Sunday on the beaches
Features of the Forecast (tl;dr)
Moderate sized + W/SW swell for this afternoon, easing slowly tomorrow with mod-fresh E/NE winds, tending SE mid-late afternoon
Easing SW swell Wed with fresh N/NE tending variable winds
S/SW winds and low point in swell Thu
Weak, building W/SW swell Fri with E tending fresh SE winds, better Sat with a moderate sized swell and N/NE tending E/NE winds, easing Sun with N/NE winds ahead of a possible change
Recap
Well it doesn't sound like the surf was especially inspiring during my leave, with nothing really of note in between bouts of small surf and onshore winds. Friday saw wild/wooly weather sweep through the state as a severe low tracked east, with Saturday morning offering cleaner surf under an offshore wind across the Surf Coast, dropping from the 3ft range. Come Sunday there wasn't much left in the tank with bumpy waves to the east.
This morning we've got a new, building swell with clean conditions across most locations and 2ft surf on the Surf Coast, 3-4ft to the east. The size has since increased further but with a light to moderate onshore breeze. We should see the swell continuing to build through the day but with a freshening SE breeze.
This week and weekend (Nov 2 - 7)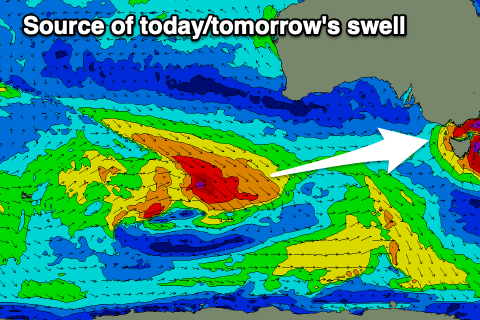 Today's building swell which is due to peak this evening was generated by a multi-staged frontal system pushing in from under Western Australia over the weekend. The swell generating fetch was mostly W/NW in nature, and around the gale-force range (a little stronger in its earlier stages).
This has produced a moderate sized W/SW swell that should reach 3-4ft across the Surf Coast this afternoon, 5-6ft on the Mornington Peninsula before easing back from a similar size tomorrow morning.
Winds will favour the beaches with a moderate to fresh E/NE breeze, persisting until about mid-afternoon, then tending SE into the late afternoon and evening.
While chunky on the beaches there should be a good window with less size ahead of the sea breeze after lunch.
Wednesday will see winds swing more N/NE (fresh) as the swell continues to ease from 3ft to possibly 4ft on the Mornington Peninsula, 2ft+ on the Surf Coast magnets.
We're likely to see variable winds into the afternoon ahead of a trough and change into the evening which will bring S/SW winds into Thursday as the swell reaches a low point.
We'll start to see the swell building again through Friday, though weak in nature ahead of a better pulse of mid-period W/SW swell on Saturday. The source of these swells will be a multi-staged frontal progression firing up towards Western Australia with an initial front being followed by a stronger, better aligned system. This best front will generate W-W/NW gales through our western swell window under Western Australia Wednesday afternoon.
This is the source of Saturday's pulse, with Friday seeing building surf slowly through the day from 1-2ft and 2-3ft respectively west and east of Melbourne with E tending SE winds, better and to 3ft and 4-5ft+ respectively Saturday under N/NE tending E/NE winds. Easing surf is due Sunday and we'll likely see favourable winds ahead of a trough and change Monday.
Longer term nothing stands out but we're likely to see moderate pulses of mid-period swell persisting, but in the meantime make the most of the fun waves coming for the beaches.