Slow weekend ahead of a significant swell event next week
Victorian Surf Forecast by Craig Brokensha (issued Friday 27th August)
Best Days: Today, exposed beaches tomorrow, exposed beaches for the keen and patient Monday afternoon, similar Tuesday morning, Wednesday, Thursday and Friday for experienced surfers
Features of the Forecast (tl;dr))
Fading S/SW swell on the weekend with freshening N/NE winds tomorrow, N on Sunday (tending N/NW on the Surf Coast)
Infrequent, small W/SW groundswell for Mon, similar Tue
Fresh N/NW winds Mon (tending N/NE-N into the PM east of Melbourne)
Strong N winds Tue AM, tending W/NW and easing into the PM
Mod-large W/SW groundswell building Wed, peaking in the PM with N tending NE winds
Secondary pulse of mod-large W/SW groundswell Thu with gusty N/NE winds, easing Fri with similar winds
Recap
Average conditions across all locations yesterday morning with a good new SW groundswell but very limited options with a gusty S/SE breeze. Winds eased and tended more variable into the afternoon across locations east of Melbourne, creating cleaner conditions and opening up a few options for the keen and experienced.
Today is better across the beaches with a lighter, E/NE offshore and lumpy, 3-5ft surf on the Mornington Peninsula, 3ft+ on the Surf Coast. Winds should stay light until mid-afternoon, and this will see conditions continue to improve as the swell continues to slowly drop.
This weekend and next week (Aug 26 – Sep 3)
Following yesterday's moderate sized SW groundswell, generated by a good polar frontal progression under the country earlier in the week, there's not much to follow up swell wise until Monday.
The reason for this is a stubborn and strong low sitting off the southern NSW coast, keeping a blocking high sitting west of us from mid-week, with it finally moving in on the weekend. The high will do exactly that though, block our swell windows, with easing, mid-period S/SW swell energy due through tomorrow, bottoming out Sunday.
The Surf Coast looks to ease from a slow 2ft on the swell magnets, with infrequent 3ft sets on the Mornington Peninsula (most likely 2-3ft). Conditions will be great for the beaches with a light to moderate N/NE breeze, holding all day and increasing into the afternoon. Get in early for the most size though.
Sunday looks clean again with a bit more N'th in the wind, shifting N/NW at times on the Surf Coast but with a low point in swell. The models are showing a little kick in size but this is background, long-period W'ly energy generated unfavourably through our swell window. The Mornington Peninsula may see the odd stray 2ft set, tiny on the Surf Coast.
Looking at next week and our inconsistent, small W/SW groundswell for Monday is still on track, generated by a distant storm that fired up around the Heard Island region on Wednesday.
It was initially strong before weakening while pushing up and under Western Australia, and isn't due to offer any real size or consistency. The Surf Coast is only likely to see very infrequent 2ft sets on the swell magnets through the day, 3ft to occasionally 4ft on the Mornington Peninsula. Winds will be favourable for both regions, though improving from late morning to the east, with a N/NW breeze on the Surf Coast, N/NW tending N/NE to the east. The afternoon looks the pick for the peninsula with N/NE-N breezes.
The secondary pulse of inconsistent W/SW swell for Tuesday looks a bit hit and miss now, with a fetch of pre-frontal W/NW winds due to just keep very inconsistent 2ft sets hitting the Surf Coast magnets, with 3ft to occasionally 4ft sets to the east.
Winds will strengthen from the N'th on Tuesday morning, shifting W/NW into the afternoon and easing, limiting surfing options.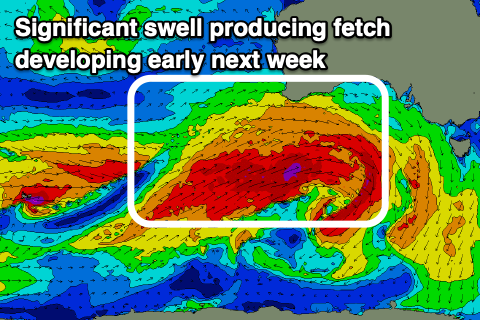 We then look to the strong and much more impressive polar frontal progression firing up south-west of Western Australia during Sunday, then pushing further east towards us early in the new week.
We're looking at an initial great fetch of W/SW gales firing up, followed by a broader, stronger fetch of severe-gale W/SW winds under Western Australia Monday, then dipping south-east on approach to us mid-week.
A secondary vigorous frontal system will then produce severe-gale to storm-force W/NW winds under the Bight Tuesday, generating an additional pulse of reinforcing swell.
Size wise, a moderate-large W/SW groundswell should be seen from the initial activity, filling in Wednesday, peaking late in the day ahead of the secondary pulse for Thursday morning.
With the progression dipping south-east on approach to us, winds look great for selected breaks with a N tending NE breeze on Wednesday, stronger N/NE on Thursday. Quite a rare combination with such a large swell, also hinted at in this article.
Size wise, the Surf Coast should build to 4-6ft into the afternoon Wednesday, with 8ft surf to the east, with Thursday possibly seeing a touch more size again.
Friday will continue to see strong N winds as the swell eases, giving into a late SW change.
Longer term there's plenty more reinforcing swell on the cards, but more on this Monday. Have a great weekend!