Weaker, average period ahead
Victorian Surf Forecast by Craig Brokensha (issued Friday 20th August)
Best Days: No great days, but tomorrow afternoon Surf Coast, Sunday Surf Coast, beaches late next week and Saturday
Features of the Forecast (tl;dr)
Low point in swell tomorrow AM
Inconsistent W/SW groundswell building Sat PM with gusty N/NW tending NW winds, easing later
Mid-period W/SW swell for Sun, similar in size but a touch more period Mon AM
Gusty N/NW winds Sun, strengthening W/SW tending SW on Mon (early W/NW on the Surf Coast)
Moderate sized+ W/SW groundswell for Tue but with strong S/SW winds, easing Wed with strong S winds
Good SW groundswell Thu with fresh SE winds, easing Fri with morning E winds, smaller Sat with N/NE winds
Recap
Yesterday started a little slow but nice and clean across the Surf Coast, workable to the east. A tricky, inconsistent W/SW groundswell filled in through the day though and offered good, 3ft+ sets on the Surf Coast magnets, 4-5ft+ to the east as winds remained favourable for most spots, even improving for the beaches to the east. Which such a tricky source it was good to see this swell come to fruition.
Today the swell has eased back in size with favourable winds across most locations, best suited to the beaches with easing 3-4ft waves on the Mornington Peninsula, 2ft+ on the Surf Coast.
This weekend and next week (Aug 21 - 27)
It looks like tomorrow morning will be the smallest the surf will be until later next week, with us falling in between swells again ahead of an increase in activity from the afternoon.
The Surf Coast is likely to only be 1-2ft tomorrow morning if that, 2-3ft to the east and inconsistent. Through the afternoon our first pulse of inconsistent W/SW groundswell is due to fill in, generated by a strong, but short-lived and distant low firing up south-west of Western Australia earlier this week.
It'll be inconsistent but the Surf Coast magnets should build to 2-3ft mid-late afternoon and 3-5ft to the east.
Winds will favour protected spots and be gusty (strong at times), N/NW through the morning and shifting NW into the afternoon while easing in strength later in the day.
Moving into Sunday and we should see some better, more consistent mid-period W/SW swell energy filling in, generated by a mid-latitude front that's currently passing under Western Australia.
This front is weakening, and was stronger in our distant swell window, with 2-3ft of mid-period swell energy due on the Surf Coast Sunday, 3-5ft to the east again, with some slightly stronger groundswell to a similar size due Monday morning but with less consistency.
This size is expected on the swell magnets, smaller elsewhere and a fresh and gusty N/NW wind is due to blow all day Sunday, swinging SW on Monday and strengthening as a cold front pushes through. The Surf Coast will likely see early W/NW winds, shifting W/SW from late morning.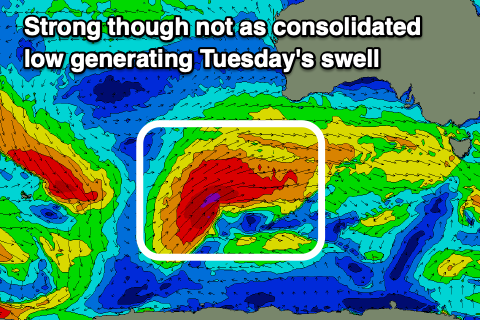 Unfortunately this front now looks to keep strong S/SW winds blowing into Tuesday when our new W/SW groundswell is due. One slight positive though is that this groundswell has been downgraded a touch, with the polar low linked to it now falling apart earlier and not being as favourable.
A more patchy fetch of gale to severe-gale W/SW winds are due to be generated through our swell window, with the low then projecting quicker up and across South Australia, out of our swell window.
With this, the swell looks moderate in size, peaking Tuesday to 4-5ft on the Surf Coast swell magnets, 6ft to occasionally 8ft to the east.
With the change in synoptic setup into Tuesday, a strong low is now due to form off the southern NSW coast and this will bring poor, strong S'ly winds Wednesday as the groundswell eases.
The low looks to be semi-stationary resulting in winds swinging SE through Thursday as a good, new SW groundswell fills in. This will spoil the swell which will be generated by a good polar frontal system firing up under the country early next week.
Size wise the Surf Coast should come in at 3-4ft+ Thursday with 6ft surf to the east though with those SE winds. Friday looks better as winds shift back to the E/NE through the morning along with fun, easing sets, cleaner Saturday under a N/NE offshore but small.
There is a chance the formation of the low and its movement become more favourable regarding winds for Tuesday and later next week, but check back here Monday for any changes.
Longer term there's nothing too major on the cards besides inconsistent W/SW groundswell pulses with favourable winds out of the northern quadrant. More on this Monday. Have a great weekend!