Moderate sized swells with favourable winds, increasing a little Sunday/Monday
Victorian Surf Forecast by Craig Brokensha (issued Wednesday 21st July)
Best Days: Surf Coast this afternoon, Thursday, Friday on the beaches, Saturday Surf Coast, Sunday Surf Coast, Monday, Tuesday
Features of the Forecast (tl;dr)
Fun pulses of reinforcing W/SW-SW swell tomorrow through Sat AM
Fresh N/NW winds tomorrow AM, strengthening through the day (tending N east of Melbourne), fresh N winds Fri, easing late and strengthening N/NW tending NW winds Sat
New, mid-period W/SW swell for Sun AM, with building, bigger surf into the PM under strong W/NW winds
Good W/SW groundswell Mon, easing later with fresh NW winds, smaller Tue with strengthening N/NW winds
Recap
Great waves on the Surf Coast yesterday morning with a mix of new SW swells and offshore winds ahead of a strong and significant change. This change kicked up a stormy increase in S/SW swell through the afternoon, with it now easing across the region as winds revert back to the W/NW.
The Surf Coast is a lumpy 3-5ft but should slowly improve through the day, poor and onshore to the east.
This week and next week (Jul 22 - 25)
The current mid-period S/SW swell from yesterday's strong front will continue to ease through today, but we've got fun pulses of reinforcing W/SW and SW swell due tomorrow through Saturday morning across the state.
One source of swell will be strong W/NW winds swinging in from the Indian Ocean, under the country last night, with a secondary burst of stronger W/NW gales due this evening, south-west of us.
Size wise the Surf Coast should hold around the 3ft range for the most part through tomorrow and Friday, easing from this size Saturday morning, while the Mornington Peninsula should offer surf to 4-5ft. There's likely to be the rare bigger one in the mix across swell magnets in all locations through this period.
Looking at the winds and a moderate to fresh N/NW breeze tomorrow morning will strengthen through the day and tend N'ly east of Melbourne, favouring selected beaches. Friday looks good on the beaches all day with a fresh N'ly, easing off in strength late afternoon. Come Saturday stronger N/NW tending NW winds will favour the Surf Coast.
Now, as talked about on Monday, we've got a tricky though decent sized mix of W/SW swells due from Sunday as a strong mid-latitude frontal progression pushes in from the west.
Initially, tomorrow we're due to see a small, tight front project W/SW gales towards us, south of Western Australia, generating a fun pulse of mid-period W/SW swell that alone should provide 3ft+ sets on the Surf Coast Sunday with 4-6ft waves to the east.
Following this small front we'll see a broader and stronger series of fronts pushing in from the west, but the swell generating fetch doesn't look to consolidated. Instead it looks patchy and this will impact the eventual size due on the Surf Coast.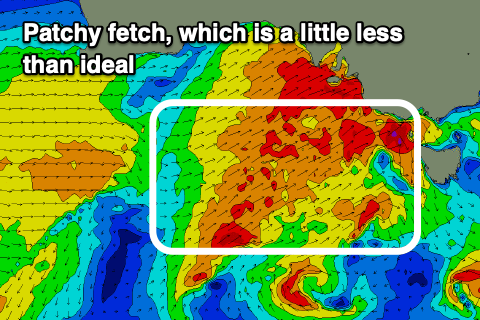 We'll see this patchy fetch of gale to severe-gale winds be best aligned and strongest under Western Australia on Friday afternoon and evening, with this swell arriving for Monday.
The frontal progression will race in ahead of the swell though and move through and across us Sunday, projecting W/SW gales through our immediate, close-range swell window. This will generate a kick in size Sunday, on top of the mid-period W/SW swell mentioned earlier with mixed sets building through the afternoon to 5ft on the Surf Coast and 6-8ft to the east.
Monday should hold 4-5ft on the Surf Coast, 6-8ft to the east, but then ease through the afternoon, dropping a touch further Tuesday.
Looking at the local winds and Sunday will be tricky but clean in protected spots with a strong W/NW breeze, holding all day, easing in strength back to a fresh NW'ly on Monday. Tuesday will see strengthening N/NW winds ahead of another cold front which may bring a shallow W change on Wednesday.
A new inconsistent W/SW groundswell is due Wednesday mixed in with some new, mid-period W/SW swell from another mid-latitude frontal progression, but we'll look at this in more detail on Friday.