Easing surf with lots of options, up again late week
Victorian Surf Forecast by Craig Brokensha (issued Monday 28th June)
Best Days: Today, tomorrow, late Thursday, Friday (region depends on how winds play out), Saturday Surf Coast, Sunday Surf Coast
Features of the Forecast (tl;dr)
Easing S/SW swell tomorrow with mod N tending N/NE winds, tiny Wed with strengthening N/NE winds
New mid-period W/SW for late Thu with N/NW tending variable winds, peaking Fri AM with likely winds from the NW
Additional W/SW swell Fri PM
Easing swells Sat with NW winds
Recap
A peaky, mixed though clean swell across the Surf Coast Saturday to 3ft in the morning, while a new, reinforcing S/SW swell pushed up wave heights later and came in a lot better than expected yesterday. The Surf Coast was an easy 4ft with bumpy, average waves to the east most of the weekend.
Today, our best S/SW swell has filled in with great conditions across all locations, coming in at 4ft+ on the Surf Coast and 4-6ft to the east. The swell is now peaking and we'll see it start to ease later in the day as winds tend variable.
This week and weekend (Jun 29 – Jul 4)
Today's final pulse of S/SW swell is the last from a flurry of polar frontal activity last week and we'll see it starting to ease this afternoon, dropping back steadily through tomorrow from 2-3ft on the Surf Coast and the 4ft range on the Mornington Peninsula (a bit smaller across Phillip Island owing to the southerly swell direction).
Conditions will be good for most locations with a light to moderate N'ly breeze, shifting N/NE into the afternoon.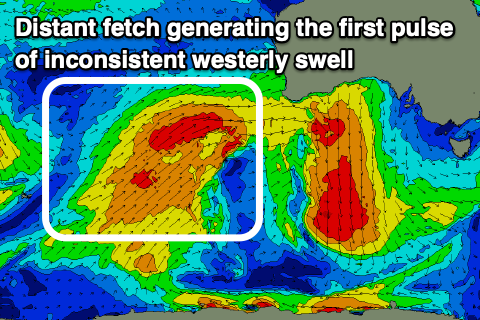 Come Wednesday there's not expected to be much swell left at all with both coasts coming in small to tiny along with a strengthening N/NE breeze.
We then look at our westerly swells due from Thursday afternoon, into Friday.
As discussed last week a flurry of strong frontal activity will push up and across Western Australia, through our medium-long range westerly swell window.
Currently, the strongest part of this front is generating a broad fetch of strong to gale-force W/SW winds through our western swell window, with the front weakening and breaking down slowly through this evening and tomorrow while pushing into the Bight.
This will generate an inconsistent, mid-period W'ly swell for later Thursday but more so Friday morning, with building sets late in the day Thursday to 2ft to possibly 3ft on the Surf Coast swell magnets, coming in at 2-3ft Friday. The Mornington Peninsula should build to 3-5ft late with surf to 4-5ft Friday.
An additional W'ly swell should help increase the consistency of the surf Friday afternoon, generated by a strong front moving under WA, producing a burst of pre-frontal W/NW gales Wednesday.
Size wise, the Surf Coast should see more consistent 3ft sets into Friday afternoon with 4-6ft sets to the east, easing from a similar size Saturday.
Now, the winds are interesting as the front linked to Friday afternoon's swell weakens and possibly forms into a mid-latitude low to our west late week, bringing moderate N/NW tending variable winds Thursday, likely fresher NW on Friday. We'll have to confirm this on Wednesday's outlook, but the weekend looks to see NW winds as the swell eases.
Longer term we still await the westerly storm track to really fire up in our prime swell window, but keep check back over the coming updates for any idea when this may happen.