Friday, 27 November 2020
Easing surf as winds round the compass
Victoria Forecast by Craig Brokensha (issued Friday 27th November)
Best Days: Tomorrow morning, Monday morning on the beaches, Tuesday, Wednesday onwards protected spots
Recap
A slow start to yesterday with a low point in swell through the morning and onshore winds, but our strong new W/SW groundswell was a little delayed in its arrival.
There was one warning sign regarding the timing, and that was that it hit Margaret River a few hours behind schedule on Wednesday, but with the Western Australian coast only seeing the earlier stages of the swell/low, I dismissed this and expected the push of the low east towards us to make up any possible late arrival.
Alas the swell hit Cape Sorell late morning and then arrived across the Victorian coast late afternoon, kicking rapidly to 6ft on the sets across the Surf Coast reefs, though with lots of bump and an easy 8ft on the Mornington Peninsula.
This morning the swell has started to ease but still large on the Mornington Peninsula, easing from 6-8ft with 3-5ft sets to the east and conditions are improving across the beaches across all locations.
We'll see the swell continuing to clean up and ease as winds remain favourable until mid-afternoon.
This weekend and next week (Nov 28 – Nov 4)
Looking at the swell evolution through the weekend firstly, and we'll see the large increase in W/SW groundswell seen late yesterday and this morning easing and swinging a bit more SW in direction tomorrow, smaller Sunday.
Size wise, the Surf Coast should see easing sets from 3ft, with 4-5ft+ sets to the east, dropping back to 2ft and 3-4ft respectively Sunday.
Our tricky, troughy weekend is still that but we're now looking at a better window of conditions tomorrow morning, poor Sunday.
Dawn is tricky with winds possibly still out of the E but they'll quickly swing N/NE through the morning (even N/NW across selected locations on the Surf Coast), holding until late morning before giving into a gusty S/SE change. So don't leave it too late tomorrow morning to paddle out.
Sunday will then be poor as a strong to possibly gale-force SW change moves through.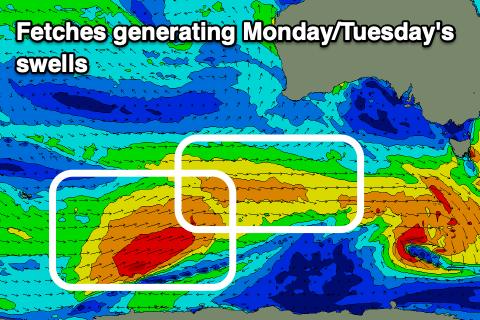 Into next week we should see building and strengthening levels of mid-period W/SW swell ahead of a less consistent SW groundswell.
The source of these swells will be a strong, slow moving polar low that's formed just east of the Heard Island region this morning, with a front ahead of it generating strong W'ly winds and the mid-period swell for Monday.
The mid-period swell should build Monday and reach 2-3ft into the afternoon with 4-5ft sets on the Mornington Peninsula and conditions will improve through the morning on the beaches with a light dawn SE breeze, shifting lighter and more E/NE through the morning ahead of sea breezes.
Tuesday morning should come in around 3ft on the Surf Coast and 4-6ft to the east, but a stronger, less consistent SW groundswell should fill in through the day, produced by W/SW gales around the polar low.
Size wise the Surf Coast is expected to see inconsistent 3ft+ sets, 5-6ft to the east and winds will strengthen from the N/NE in the morning, shifting N/NW into the afternoon and W/NW later with a strong, approaching cold front.
This cold front will originate from the polar low today, pushing through the Bight before strengthening while expanding on approaching next Tuesday. Both ECMWF and GFS have a fetch of strengthening strong to gale-force SW winds firing up behind the front Tuesday, kicking up a sizey mid-period SW swell for Wednesday, easing into the end of next week with W'ly winds. We'll have a closer look at this Monday though. Have a great weekend!