Wednesday, 8 July 2020
Small swells with northerly winds, improving through next week
Victoria Forecast by Craig Brokensha (issued Wednesday 8th July)
Best Days: Today, exposed beaches tomorrow, Friday and Saturday for the keen, Wednesday onwards next week
Recap
A window of light winds yesterday morning with a mix of swells to 3ft or so on the Surf Coast, 4-5ft on the sets to the east. The initial pulse of long-period SW groundswell from the least favourable and tightest fetch around the deepening low didn't really come up as big as expected.
Today the reinforcing S/SW energy and offshore breeze are creating better waves across all locations working the big tides.
This week and next (Jul 9 - 17)
Make the most of today's size as we'll see the swell really dropping away from later this afternoon and more so into tomorrow and Friday.
We'll see leftover and smaller 2ft sets on the Surf Coast magnets tomorrow morning, 3ft on the sets to the east but with favourable N/NE winds to the east (N tending N/NW on the Surf Coast).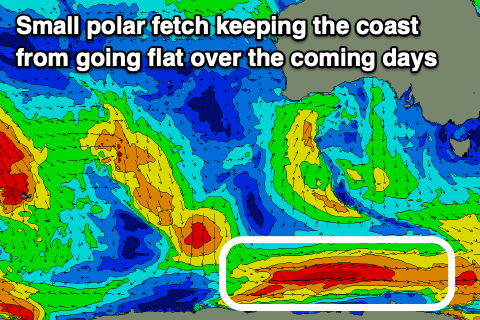 Friday will be minimal with some small and inconsistent background swell (from a slim polar fetch of W/SW gales) not above 1-2ft on the Surf Coast and 2-3ft to the east. Winds will remain favourable though and moderate to fresh from the N/NE all day.
Saturday looks similar in size and more variable winds are expected as a wandering and broad trough moves across us, bringing morning N'ly winds, variable into the afternoon. The backside of the broad area of troughiness will unfortunately bring a light to moderate S/SE wind on Sunday (possibly variable at dawn) though with no decent new swell.
Now this depression is expected to move off the southern NSW coast during the weekend and then deepen into a fairly substantial swell generating system for the East Coast as discussed here.
This low will dominate our local winds through most of next week as it sits in the Tasman Sea, directing average and fresh SE winds into us Monday, possibly swinging more E'ly Tuesday and then likely to the N/NE on Wednesday as the system starts to weaken.
Swell wise, we've got nothing significant on the cards until mid-week. A very inconsistent long-period W/SW groundswell, generated over the coming days by a vigorous storm south-east of Madagascar will produce a slow increase in size Tuesday, peaking Wednesday. I wouldn't expect much over a very infrequent 1-2ft on the Surf Coast magnets, 3ft to possibly 4ft to the east when it peaks Wednesday morning.
A slightly better W/SW groundswell is due later in the day, produced by a secondary significant storm forming east of the Heard Island region this weekend. A better, bigger and more consistent swell should be seen, building to 3ft+ on the sets late in the day on the Surf Coast, 4-6ft to the east and holding Thursday morning. This should be with favourable winds out of the N'th, but we'll review this Friday.