Friday, 3 April 2020
Windy weekend though not as much size as you'd expect
Victoria Forecast by Craig Brokensha (issued Friday 3rd April)
Best Days: Today, protected spots Sunday and dawn Monday
Recap
Improving waves yesterday and great today with reinforcing pulses of W/SW and SW swell to 3ft+ on the former across the Surf Coast, 5ft+ on the sets to the east with improving conditions as the day progressed, deteriorating into the afternoon to the east of Melbourne with a SW change.
Today there's still plenty of size on offer with a reinforcing mid-period SW swell to 3ft on the Surf Coast and 4-5ft to the east with generally clean conditions all over. We'll see the swell start to ease during the afternoon as winds hold and strengthen a little out of the northern quadrant.
This weekend and next week (Apr 4 – 10)
Tomorrow morning will mark a low point in swell activity as today's mid-period SW swell eases further along with a dawn W/NW breeze. Winds will shift stronger W-W/SW through the morning, creating bumpy conditions, possibly back to the W/NW later in the day. The Surf Coast looks average and only to 1-2ft, choppy elsewhere.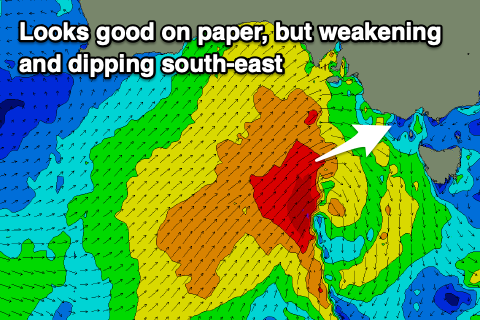 Our strong mid-latitude low due to move in from the west has formed south of WA, and it's currently too north of our swell window.
We'll see it pushing east through today while dipping more south-east and broadening in scope, with a fetch of strong to gale-force SW winds being aimed through our western swell window this afternoon, weaker into this evening.
Any swell due later tomorrow looks minimal in size (maybe 2ft+ late Surf Coast), with Sunday morning seeing moderate amounts of mid-period and stronger W/SW groundswell. Size wise the Surf Coast which will be cleanest, looks to be 4ft or so on the magnets, with 6ft to possibly 8ft waves to the east under a strong and tricky N/NW breeze. Winds will shift W/NW during the day and W into the afternoon as a cold front pushes into and across us.
The swell generating fetch associated with this front again looks a little north than ideal resulting in no real additional size at all, holding a similar size to the morning if not a touch smaller.
Later Sunday one final projection of a polar front through our southern swell window will produce a S/SW swell for Monday afternoon, easing Tuesday.
Size wise it looks like we'll see surf to 3-4ft all day on the Surf Coast, though swinging more S/SW in direction, 6ft to the east, then easing from 3ft and 5ft respectively Tuesday.
Unfortunately as the frontal progression continues east through early next week, winds will go onshore with it, early W'ly Monday morning on the Surf Coast (SW elsewhere) but shifting SW from mid-morning with Tuesday seeing moderate to fresh S'ly winds.
Wednesday looks no better as winds persist out of the S/SE as the swell continues to drop in size.
Longer term there's nothing too exciting on the cards, with a strong polar frontal progression likely to occur just a touch too east of our swell window to be favourable, under the influence of a strong node of the Long Wave Trough developing across New Zealand. This will bring unfavourable winds from the south-western quadrant with no major size at this stage. More on this Monday though. Have a great weekend!