Wednesday, 25 March 2020
Great waves across exposed spots from Friday
Victoria Forecast by Craig Brokensha (issued Wednesday 25th March)
Best Days: Keen surfers tomorrow, beaches from Friday through Sunday
Recap
A decent swell running on the coast yesterday with our reinforcing SW groundswell keeping the Surf Coast to 3-4ft with workable light to moderate onshore winds across selected regions, bumpy and solid to the east.
Today the swell has eased off a little with persistent onshore winds. We're expected to see a strong new long-period SW groundswell building later this afternoon, generated by a strong low that formed south of WA earlier this week. Winds will remain onshore though and moderate to fresh in strength.
This week and weekend (Mar 26 – 29)
Our new long-period SW groundswell due later today is expected to peak tomorrow morning with a good bit of size due across the state.
The Surf Coast should offer fairly consistent surf to 4ft, with waves to 6ft on the Mornington Peninsula, easing slowly through the day.
Winds are still looking onshore from the S/SE but only light to moderate so there should be workable options all throughout the day.
Friday and Saturday are still the pick though, with a reinforcing mid-period S/SW swell for Friday due to slow the easing trend from tomorrow. This is being generated by a weak polar front currently south-west of Tassie, with the Surf Coast seeing 3ft waves Friday morning, 4ft to occasionally 5ft to the east.
A light N/NE offshore should blow until early afternoon ahead of sea breezes, with Saturday seeing moderate to fresh N/NE offshores, strengthen from the NE into the late afternoon.
Looking at the expected sized and we've got a slight upgrade in a reinforcing pulse of swell that's due to build through the day, generated by a poorly aligned polar front, but on the back of all the current activity it'll provide some fun sets.
The Mornington Peninsula should kick back to 4ft+ through the day, smaller early, with 2ft to occasionally 3ft sets on the Surf Coast into the afternoon.
This swell will ease Sunday from 2ft+ on the Surf Coast and 3-4ft on the Mornington Peninsula under strong but easing N/NE-N winds.
This will top off a great run of waves on the exposed beaches from Friday through the whole weekend.
Next week onwards (Mar 30 onwards)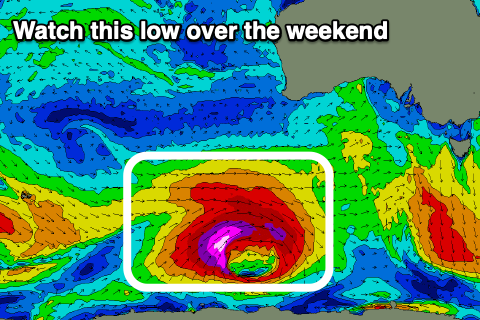 As touched on last update, we've got an intensification of the Southern Ocean storm track from this weekend into next week, generating what now looks to be one large long-period swell and plenty more moderate sized pulses.
A significant polar low is forecast to form east of the Heard Island region later Friday, with a broad fetch of severe-gale to storm-force W/SW winds due to be projected through our south-western swell window.
Currently the swell from this low is on track for Tuesday, building through the day but local winds are still unsure as the models diverge regarding this. Therefore check back here Friday for a clearer idea on what's in store for next week.