Friday, 7 February 2020
Poor weekend, very small windows opening next week
Victoria Forecast by Craig Brokensha (issued Friday 7th January)
Best Days: Surf Coast Tuesday morning, possibly next Friday morning
Recap
A building S/SW groundswell through yesterday with the peak occurring into the afternoon rather than morning and conditions improved across the Surf Coast as poor morning SE winds shifted more S'ly. Options to the east were limited to a few select protected spots.
This morning there was still plenty of decent size on offer across both regions, though the swell is easing and light to moderate onshore winds have opened up workable options for the keen.
This weekend and next week (Feb 8 – 14)
The coming weekend isn't looking too flash at all with strong onshore E/SE-SE winds, building levels of stormy SE windswell and limited surfing options.
Early each morning winds will be weaker and more fresh (though SE tomorrow and E/SE Sunday morning), with the SE windswell building tomorrow to 4-5ft on the Surf Coast into the afternoon, 3-4ft on the Mornington Peninsula and holding a similar size Sunday.
If you're looking for surf on the weekend, Sunday morning does look the pick of it, but keep your expectations low.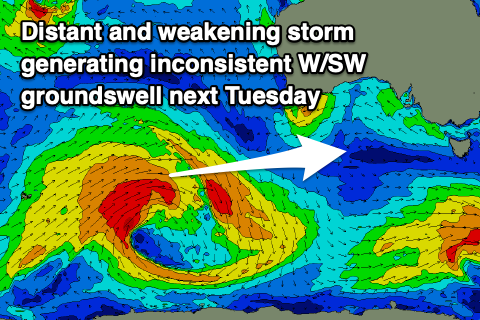 We're now looking at a continuation of poor conditions and a moderate sized SE windswell on Monday, with Tuesday seeing winds ease and swing W/NW-SW as a trough moves in from the west.
This will be the time to surf the Surf Coast with easing levels of SE windswell from what looks to be 2-3ft sets. An inconsistent long-range W/SW groundswell should build across the Mornington Peninsula, generated by a distant storm that's currently projecting towards WA while weakening.
Size wise this looks to provide infrequent 3-5ft sets into the afternoon, smaller through the morning. Those winds will be an issue though, possibly variable at dawn but we'll review this.
Unfortunately this is the only real window before another strong high moves in from the west and is squeezed by an extra-tropical cyclone drifting down from the Coral Sea. Winds will strengthen out of the SW on Wednesday and then S/SE-SE Thursday and possibly Friday along with no decent groundswell until Friday.
This looks to be in the form of a good moderate sized W/SW groundswell from a strong polar low firing up south-west of WA. We'll have to have a closer look at this on Monday though.
In the meantime focus on other hobbies other than surfing. Have a great weekend!