Friday, 24 January 2020
Lots of quality opportunities to surf this period
Victoria Forecast by Craig Brokensha (issued Friday 24th January)
Best Days: Saturday, Sunday, Monday morning, Tuesday and Wednesday mornings on the Surf Coast, exposed beaches Thursday and early Friday
Recap
Tiny conditions across most locations yesterday morning, but a new W/SW swell started to kick into the afternoon, offering OK waves in protected spots out of the strong W'ly breeze on the Surf Coast late afternoon and evening.
Today stronger levels of mid-period and W/SW groundswell are filling in with 3ft waves on the Surf Coast this morning, 4-6ft to the east. Conditions were great west of Melbourne and workable to the east, just a bit bumpy.
We should see the groundswell component of the swells filling in through the day, peaking this afternoon to 3-4ft on the Surf Coast and a more consistent 6ft to the east as winds shift more W/NW, holding until later afternoon with possible weak sea breezes but if we're lucky, a LAGO.
This weekend and next week (Jan 25 – 31)
Today's mix of swells will ease back through the weekend after this afternoon's peak, with dropping surf from the 3ft range on the Surf Coast and 4-5ft+ to the east.
Winds are looking favourable for most locations early tomorrow morning with a NW offshore on the Surf Coast and N/NW winds at dawn to the east of Melbourne (even N/NE across Phillip Island) shifting NW quickly after before giving into sea breezes from the S/SE. There's likely to be a period of variable winds east of Melbourne as well ahead of the sea breeze.
Early Sunday looks smaller and weaker, but a new SW groundswell should arrive into the afternoon, peaking Monday. Winds on Sunday morning look best for the Surf Coast with a light NW offshore, a little dicey but variable onshore to the east, creating workable conditions. There's likely to be that window of variable winds again mid-afternoon ahead of sea breezes.
Size wise the Surf Coast looks to be back to 2ft, 3-4ft on the Mornington Peninsula, but the new SW groundswell should kick to 3ft+ and 4-5ft respectively later in the afternoon, discussed further below.
Sunday afternoon's groundswell is currently being generated by a strengthening and broadening polar low that's sitting south of WA.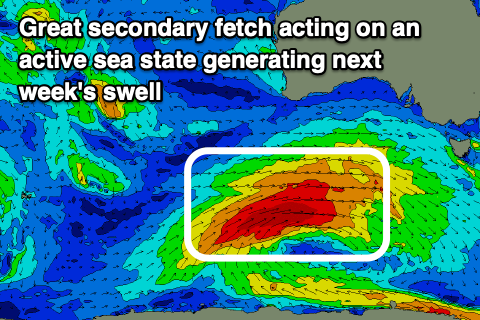 A slow moving fetch of W/SW gales will be projected through our south-western swell window today, broadening in scope tomorrow while weakening temporarily ahead of a secondary fetch of W/SW gales projecting on top the active sea state tomorrow evening and Sunday morning.
What should result is a moderate + sized and prolonged SW groundswell event from later Sunday through Tuesday, easing slowly and dropping in period and energy from Wednesday.
The Surf Coast should see fun and consistent 3-4ft surf Monday, 6ft to the east, with Tuesday offering bigger 5ft sets on the Surf Coast magnets, near 8ft'ers on the Mornington Peninsula.
Easing surf from 3ft+ is expected on Wednesday across the Surf Coast, 5ft to or so to the east, small into Thursday and bottoming out Friday.
Coming back to the local winds and Monday looks great for most regions with local offshore winds early (NW Surf Coast, N/NE-NE Mornington Peninsula and PI) though a trough moving in from the west looks to bring a change later morning, freshening through the afternoon out of the S/SW.
A light morning W/NW breeze is likely Tuesday morning ahead of S/SE sea breezes, similar Wednesday as the swell eases. The exposed beaches will then be the go later week with morning N/NE offshores as the swell fades. Have a great weekend and make the most of the coming surf days!