Friday, 13 December 2019
A slightly better period over the coming days
Victoria Forecast by Craig Brokensha (issued Friday 13th December)
Best Days: Surf Coast keen surfers Saturday and Sunday mornings, Surf Coast Monday, Tuesday morning exposed beaches
Recap
Cleaner conditions on the Surf Coast yesterday but a tiny swell, onshore and bumpy to the east. A new kick in mid-period swell has been seen this morning with nice clean conditions again on the Surf Coast (the best surf day this week), bumpy to the east.
This weekend and next week (Dec 14 - 20)
The weekend will play out similar in size and conditions to today with a couple of reinforcing weak, mid-period W/SW and SW swells on the cards. These have been generated by weak fronts drifting through our swell window yesterday and today.
Size wise expect ebbs and pulses either side of the 2ft range on the Surf Coast and 3ft to occasionally 4ft to the east, with a morning W'ly breeze tomorrow, shifting S/SW late morning and freshening. Sunday looks a bit cleaner and for longer with a NW-W/NW breeze ahead of late afternoon sea breezes.
Our inconsistent but fun sized long-period W/SW groundswell for Monday is still on track, generated by a strong but distant low that formed north of the Heard Island region, followed by a fetch of W/NW gales moving east-southeast along our Great Circle Path.
There'll be long waits for the sets but the swell should peak to 3ft on the Surf Coast swell magnets, 4-5ft to the east along with a morning W/NW breeze, possibly more NW on the Mornington Peninsula for a short period before tending SW and then S.
Tuesday is looking a little less favourable with more variable winds now on the cards instead of a N/NE offshore proper as the swell eases from Monday. GFS is still showing a N/NE breeze from dawn but the more reliable ECMWF has dawn SE tending variable winds ahead of sea breezes. Check back here on Monday for the last thoughts on this.
Either way conditions will be much better and well worth a surf on the Mornington Peninsula and Phillip Island with easing sets from 3ft to possibly 4ft, 2ft on the Surf Coast.
Wednesday will be smaller again with a morning E/NE breeze, marginal on the exposed beaches as the swell bottoms out.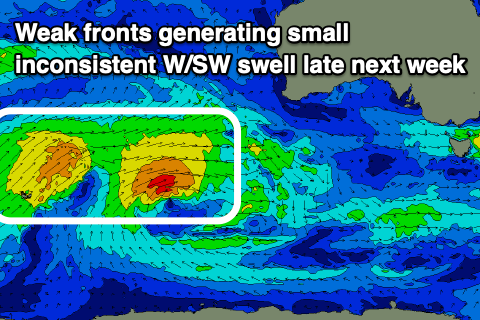 Later in the week some very inconsistent and small W/SW swell is expected on the exposed beaches Thursday/Friday, generated by distant storms west-southwest of WA on the weekend. No major size is expected and winds could be dicey for the exposed beaches Thursday, better Friday morning but we'll have to look at this in more detail on Monday.
Of greater importance is a possible strong low deepening west-southwest of us late next week/weekend generating some better swell late in the weekend, but check back here Monday for more on this. Have a great weekend!