Wednesday, 4 December 2019
Plenty more surf to come if you've missed out this week
Victoria Forecast by Craig Brokensha (issued Wednesday 4th December)
Best Days: Thursday Surf Coast and other protected spots, Friday morning Surf Coast, Saturday morning Surf Coast, exposed beaches Sunday morning
Recap
A bit more size than expected across the region yesterday morning, with large surf all day across most locations, between 4-6ft on the Surf Coast and 6-8ft to the east, with protected spots fairing best.
This morning looks to be the pick of the conditions with size this week, with clean 5-6ft surf on the Surf Coast and choppy 6-8ft waves to the east, best in protected spots again. We'll see the swell ease slowly through the day as winds shift W/SW though likely flirting from the W through the day on the Surf Coast.
This week and weekend (Dec 5 - 8)
The strongest of the cold fronts linked to this current period of activity moved through yesterday and overnight, with the swell due to drop slowly from here. We've still got a few good days of surf ahead in protected spots, with tomorrow morning providing the cleanest and best conditions.
Currently, a front is still generating a fetch of strong W/SW winds in our southern swell window, south-west of Tassie, moving out of our swell window this afternoon.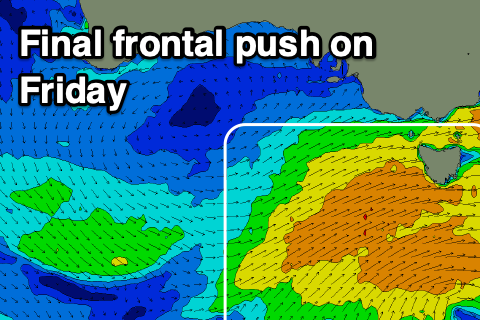 This should keep the swell up tomorrow morning around 4ft+ on the Surf Coast, 6ft to the east, easing slightly through the day. A morning NW breeze will shift W/NW late morning and then W/SW mid-afternoon, providing plenty of opportunity to get a wave in.
A temporary low point in swell is expected Friday morning though likely not below 3ft+ on the Surf Coast and 4-5ft to the east, while one final strengthening frontal system pushing into and across Tassie during the day should produce a new S/SW swell for the afternoon and Saturday morning.
Sets to 4ft are due on the Surf Coast, 6ft to the east, easing from this size Saturday morning and winds are looking a little less favourable. A W'ly breeze is due Friday morning, shifting W/SW-SW late morning, back to the W/NW Saturday morning before shifting S/SW late morning and strengthening.
The swell will ease more steadily from Sunday, dropping from 2ft to possibly 3ft across the Surf Coast swell magnets, 3ft+ to the east. Winds will become variable and likely tend E/NE-NE across the Mornington Peninsula beaches ahead of sea breezes.
Monday will be super clean and lined up, but small to tiny across all breaks.
Longer term, there's nothing significance on the cards, owing to the large blocking high moving in, with a couple of weak fronts possibly generating some new swell late week and next weekend. More on this Friday though.