Good to great few days of surf shaping up
Victoria Forecast by Craig Brokensha (issued Friday 22nd November)
Best Days: Surf Coast Saturday from late morning, Sunday morning, Monday morning
Recap
Strong, hot and offshore winds with no swell yesterday, giving into a strong afternoon and much cooler change, dropping temperatures by 20 degrees or so.
Today the surf hasn't improved with a small mix of new swells but with average conditions.
This weekend and next week (Nov 23 – 29)
After a couple of poor days of surf, we've got much better conditions and swells due over the coming days.
The initial strongest stages of the frontal progression linked to this swell has already taken place, south-west of WA with a good fetch of W/SW gales produced through our western swell window.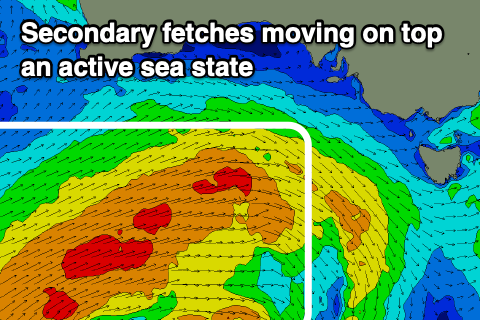 We're now seeing the secondary stages of the progression, with a broad and strong fetch of W/SW winds pushing over the top of the active sea state, south of WA and slowly towards us today, and this evening, slipping slowly east-southeast through tomorrow.
The initial stages of the storm will produce an inconsistent and building W/SW swell for tomorrow, starting from 1-2ft on the Surf Coast and 3-4ft to the east in the morning, but reaching 3ft+ and 6ft respectively into the late afternoon, likely bigger on dark.
Winds will become less favourable as the swell builds though with a morning NW breeze, shifting W/NW later morning ahead of a early-mid afternoon S/SW change.
The most size is due on Sunday with a mix of W/SW and SW swells coming in mostly around 4ft on the Surf Coast (4-5ft swell magnets), 6ft+ on the Mornington Peninsula (8ft cleanups at magnets) along with a light morning NW offshore (possibly N/NW at times east of Melbourne ahead of S/SE sea breezes.
As touched on in Wednesday's notes, the easing trend will be slowed by a couple of weaker fronts pushing in and under the country on the weekend, dropping from 3ft to possibly 4ft on the Surf Coast swell magnets and the 5ft to occasionally 6ft range to the east.
Winds look favourable for both regions with a locally offshore breeze with a N'ly tendency, giving into S/SE sea breezes again.
Tuesday will become smaller again with average and fresh to strong SW winds in the wake of a trough moving through early morning.
The small pulse of groundswell for Wednesday is still on track, but it looks a bit smaller and very inconsistent. The source of this swell is a tight fetch of W/SW gales east of Heard Island today, with 2ft to possibly 3ft sets on the Surf Coast magnets, 3-4ft+ to the east. A morning W/NW breeze will favour the Surf Coast for keen surfers.
Longer term we should see some new swell developing for Friday and the weekend from a not overly strong, but slow moving and broad polar low forming south of the country mid-week. Winds are still unclear with the models diverging from Friday, but we may see more favourable conditions for the exposed beaches. More on this Monday. Have a great weekend!