Friday, 4 October 2019
Mixed weekend with winds from all directions
Victoria Forecast by Craig Brokensha (issued Friday 4th October)
Best Days: Keen surfers selected spots tomorrow AM, Sunday, possibly dawn Tuesday Surf Coast
Recap
Good waves across the exposed beaches across the state yesterday morning with a new S/SW groundswell kicking to 3ft on the Surf Coast and 4ft to the east, average into the afternoon with an onshore change.
Today the swell was back to 2ft+ on the Surf Coast and 3-4ft to the east but with generally average to poor conditions.
This weekend and next week (Oct 5 - 11)
The inconsistent and long-period W/SW groundswell due tomorrow across the state impacted Western Australia yesterday and is still large this morning, with it due to arrive across our region later today but more so this evening and peaking through tomorrow.
It'll be inconsistent with long waits for sets to the 3ft range across the Surf Coast swell magnets, 4-5ft to the east and with moderate E/SE winds (possibly E/NE for a period through the morning) and SE sea breezes.
The swell will ease through Sunday, with some additional mid-period SW-S/SW swell in the mix from polar fronts skirting around our swell window last night and today.
Size wise, easing 2-3ft sets are due on the Surf Coast, 4ft to the east and with tricky but workable strong N/NE tending W/NW winds as a mid-latitude low moves in from the west.
The low will push across us in earnest Sunday evening, but provide no real additional swell, with small weak 2ft sets on the Surf Coast, 3ft+ to the east. An approaching polar front should keep winds out of the W/NW all day, though as said, the swell will be small and weak.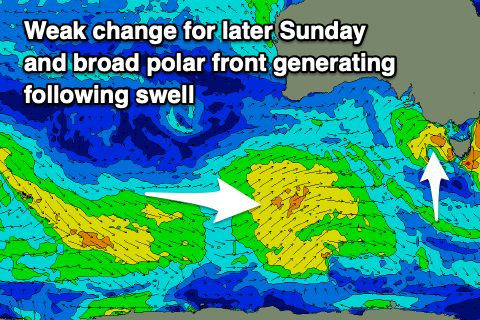 This front and a following system which will stay further south won't be overly strong, but they'll be broad and persistent, generating some fun mid-period swell for Tuesday through Thursday across the state.
Tuesday now looks to offer the most size, with the front forming south-southwest of WA Saturday and projecting slowly towards us through Sunday and Monday.
Size wise we should see 3-4ft waves on the Surf Coast Tuesday, 5-6ft to the east but with strong SW winds, that may be W'ly at dawn on the Surf Coast (we'll confirm this Monday).
Wednesday unfortunately looks to linger onshore from the SW as a slow moving high takes it time to move in from the west. A temporary drop in size is likely ahead of a reinforcing S/SW groundswell Thursday from the trailing polar frontal activity, but winds will persist out of the S/SW, improving later week and more so into the weekend as the swell fades. We'll have a closer look at this Monday though. Have a great weekend!