Wednesday, 11 September 2019
Take your pick over the coming period
Victoria Forecast by Craig Brokensha (issued Wednesday 11th September)
Best Days: Thursday morning, Surf Coast Friday, Saturday, Sunday
Recap
The Surf Coast cleaned up nicely yesterday with a mix of easing S/SW swell and long-range W/SW groundswell to 3ft to occasionally 4ft, bumpy and average to the east.
Today, the first of our long-period SW groundswells due this week has filled in, providing pumping waves across most breaks. The Surf Coast is 4-5ft, 6ft+ to the east.
Today's Forecaster Notes are brought to you by Rip Curl
This week and weekend (Sep 12 – 15)
Today's pulse of long-period SW groundswell is expected to ease off this afternoon, but our secondary pulse of long-period SW groundswell is looking a little better now. As talked about on Monday, the low linked to the swell tracked east-southeast through our swell window, but was a little stronger than expected with a fetch of storm-force W/NW winds generated.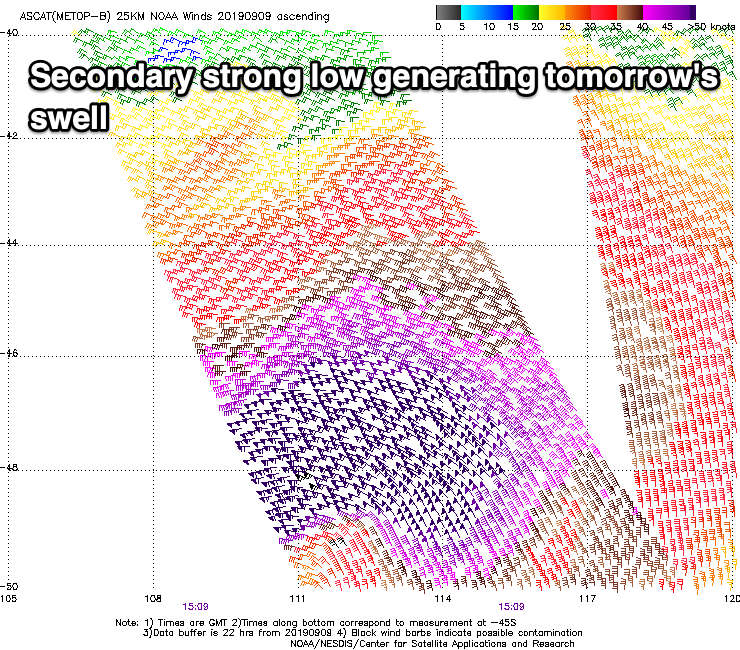 This on top of the active sea state generated by the initial low should produce a good and similar sized pulse of SW groundswell for tomorrow morning, keeping 4-5ft waves hitting the Surf Coast (possibly the odd bigger cleanup), 6-8ft to the east.
Conditions will be great again through the morning with a moderate to fresh N/NW offshore, giving into an early afternoon SW change.
The swell will ease into the afternoon, though steady Friday with a new SW groundswell arriving late morning and keeping the Surf Coast around 4ft on the sets, 5-6ft to the east. This swell will be produced by a weaker but good front moving in behind the intense low, generating a fetch of strong to gale-force W/SW winds.
Winds will be best for the Surf Coast all day with a NW tending W/NW breeze.
Yet another but fast tracking front is expected to push in Friday evening, producing a mid-period SW swell for Saturday, keeping the Surf Coast around 3ft to possibly 4ft. Conditions will remain best across the Surf Coast with a W/NW offshore tending variable early afternoon ahead of sea breezes.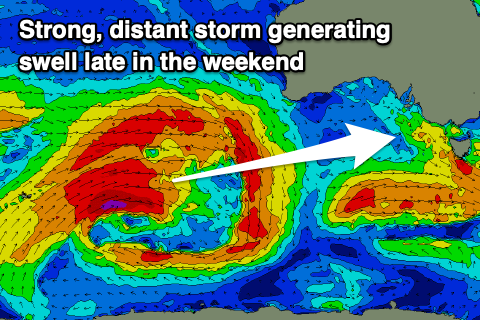 A temporary low point in swell is expected Sunday morning, but into the afternoon and more so Monday morning, a god but inconsistent new W/SW groundswell is due.
This swell is being generated in our far swell window by a broad and strong frontal progression through the southern Indian Ocean. The progression is weakening south-west of WA, but a secondary intensification of the remnants of the storm south-west of us on the weekend looks to generate a better more consistent long-period SW groundswell for Monday.
Coming back to Sunday afternoon's increase in inconsistent W/SW groundswell and swell magnets should reach 3-4ft by dark on the Surf Coast, 6ft to the east with N/NW tending NW winds ahead of a late change.
Monday's SW groundswell looks to come in at a stronger 4-5ft on the Surf Coast, but the polar system looks to stall and continue aiming W/SW gales in our southern swell window, producing a larger S/SW groundswell for Tuesday. This looks to be more to 4-6ft on the Surf Coast and 8ft to the east.
Winds at this stage diverge with the models not agreeing on a trough moving in from the west, so we'll have to have a closer look at this Friday,
Following this we'll continue to see winter calibre storms firing up in our swell window, possibly linked to the Sudden Stratospheric Warming event mentioned over the last couple of weeks, but we'll continue to monitor this.