Wednesday, 14 August 2019
Inconsistent surf over the coming days, larger and better next week
Victoria Forecast by Craig Brokensha (issued Wednesday 14th August)
Best Days: Surf Coast Friday morning, exposed beaches Saturday, protected spots Monday onwards
Recap
Cleaner conditions on the Surf Coast yesterday with 2-3ft of S/SW swell, fun into the afternoon with weak sea breezes.
This morning conditions were cleaner again across a wider variety of locations with a mix of swells hanging in at 2ft to occasionally 3ft on the Surf Coast and 3-4ft to the east. The swells will ease through the day as winds persist from the N/NW.
Today's Forecaster Notes are brought to you by Rip Curl
This week and weekend (Aug 15 - 18)
Tomorrow morning will start out tiny to flat with a fresher and gusty N/NW breeze, holding all day as a new inconsistent W/SW groundswell builds into the afternoon.
We've talked about this swell source for the past few updates and there's been no real change to the expected size or timing. The Surf Coast magnets should reach a small and inconsistent 2ft+ by dark tomorrow, with 4ft sets on the Mornington Peninsula ahead of a peak Friday to an infrequent 3ft on the sets west of Melbourne and 4-5ft to the east.
Winds are looking a bit more favourable for Friday as a surface trough moving in from the west stalls slightly, bringing moderate to fresh N/NW winds early morning, shifting W/NW through the morning and then SW midday.
With the stalled nature of the trough, winds will take a little longer to swing back around on Saturday, tending around to the NE instead of N/NE, favouring the beaches east of Melbourne but less so spots on the Surf Coast.
An inconsistent reinforcing W/SW groundswell from a small tight low in our far swell window will slow the easing trend into the afternoon, with dropping surf from 2ft to possibly 3ft on the Surf Coast swell magnets, around 4ft to the east.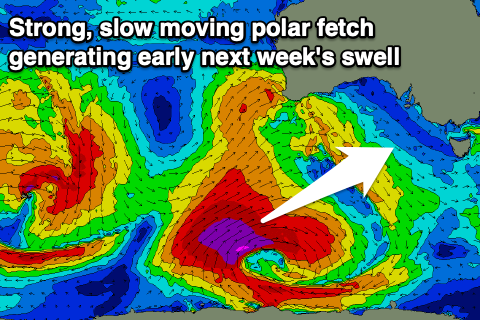 Sunday will be small to tiny and winds will strengthen from the N/NW, shifting W/NW into the afternoon as a strong cold front moves in from the west. The structure of this frontal progression has changed a little and no increase in SW swell is due Sunday, but we've got larger surf expected into early next week.
A strong frontal system currently moving through the southern Indian Ocean will split into two south-west of WA on Friday, with a fetch of polar severe-gale SW winds forecast to be aimed through our south-western swell window, projecting slowly north-east through the weekend, weakening once pushing in and across us Sunday evening and Monday.
A moderate to large long-period SW groundswell is due off the low on Monday, building towards a peak into the afternoon though mixed in with mid-period SW swell from the front moving through Sunday evening.
The Surf Coast should see building surf from a weak 3-4ft to stronger 4-6ft into Monday afternoon, 6-8ft on the Mornington Peninsula with strong W/NW tending W/SW winds.
There looks to be plenty of size left into Tuesday morning as the swell starts to ease with persistent W/NW breezes owing to secondary weaker fronts pushing in from the west.
Moderate sized and lesser period W/SW swell is due from these secondary systems next week as winds remain best for the Surf Coast, but more on this Friday.