Friday, 9 August 2019
Poor weekend, improving as the swell fades
Victoria Forecast by Craig Brokensha (issued Friday 9th August)
Best Days: Protected spots early Saturday Surf Coast, protected spots Sunday morning, Surf Coast Tuesday, exposed beaches late Thursday, Surf Coast Friday
Recap
Wednesday afternoon's kick in swell from a late forming mid-latitude low, held well into yesterday morning with clean 3ft waves on the Surf Coast, bumpier and larger to the east.
Today the real cold and windy weather has hit with strong to gale-force onshore winds and poor surf east of Melbourne, OK in protected spots but raw and bumpy on the Surf Coast. We've got a mix of new inconsistent W/SW groundswell and localised windswell on top. We'll be dealing with fresh to strong W/SW-W winds all day, cleaner at times on the Surf Coast and wind affected at others.
Today's Forecaster Notes are brought to you by Rip Curl
This weekend and next week (Aug 10 - 16)
Windy and stormy, biggest Sunday morning. That's the take home message for the weekend, besides an early window of strong W/NW winds tomorrow morning, a strong front spawning off a deep low sitting across Tasmania will bring a strong to gale-force SW change later morning and building S/SW windswell through the afternoon.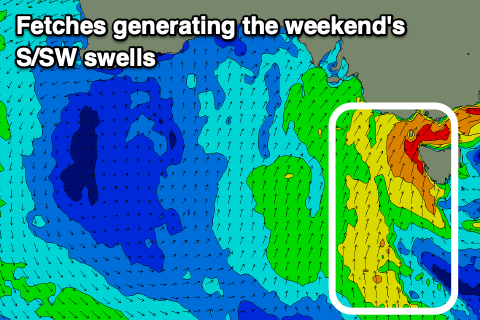 Size wise, in the morning we're looking at waves to 3ft+ on the Surf Coast and 4-5ft+ on the Mornington Peninsula, with the S/SW windswell building into the afternoon ahead of the biggest spike in swell Sunday morning.
This will be generated by a strong polar front strengthening while projecting north up into the west coast tomorrow evening and early Sunday, though not quite to the strength forecast on Wednesday.
We're expected to see a mid-period and stormy and sloppy swell to the 5ft range on the Surf Coast and 6ft+ to the east but with poor and strong S/SW tending S winds.
The swell is due to start easing later Sunday, dropping steadily through Monday but with poor and fresh onshore SW winds. Size wise, the Surf Coast looks to ease from 3ft+, 4-5ft to the east.
Tuesday is still looking cleaner as a high moves in from the west and winds shift W/NW through the morning (S/SW into the afternoon) but size wise it looks like we'll be seeing 2ft+ sets on the Surf Coast and bumpy 3-4ft waves to the east. There's an outside chance that winds may go more variable from the N/NE late east of Melbourne, but we'll review this Monday.
Wednesday will become smaller again and with moderate to fresh N/NW winds, though no real size or power left to the swell.
As touched on in Wednesday's notes, there's nothing too significant due into the end of the week as the high moving in early next week blocks out main swell windows. We'll rely on an inconsistent and long-range W/SW groundswell, generated in the south-east Indian Ocean over the weekend.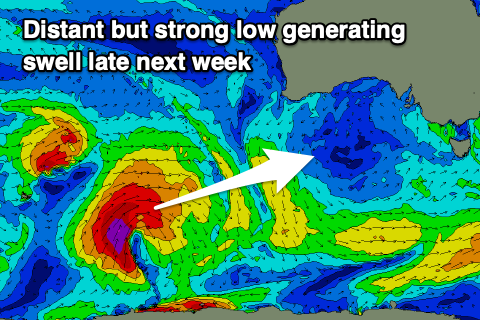 A strong low will dip south-east into our swell window on Saturday evening, producing a good but distant fetch of strong to gale-force W/SW winds, with the tail now forecast to strengthen to severe-gale while projecting a little closer towards us, south-west of WA. The low will weaken south of the country early next week, but the movement towards us should help the consistency a little as well as holding off the swell decay.
A fun sized, though inconsistent W/SW-SW groundswell is due from the low, arriving Thursday afternoon and peaking Friday. We're looking at surf mostly around 3ft on the Surf Coast, with the odd possible bigger sneaker, 4-5ft on the Mornington Peninsula, again with the odd possible 6ft cleanup Friday morning, easing into the afternoon.
Winds will strengthen from the N'th on Thursday with the swell kicking later in the day, swinging stronger N/NW to NW through Friday as a mid-latitude front moves across us, favouring the Surf Coast. The mid-latitude front isn't expected to generate any additional meaningful swell, riding too high but we may see a bigger long-range W/SW groundswell for early the following week produced by a stronger polar frontal progression developing south-west of WA. More on this Monday though. Have a good weekend and stay warm!