Monday, 27 May 2019
Change to the incoming large swell, but slightly for the better
Victoria Forecast by Craig Brokensha (issued Monday 27th May)
Best Days: Surf Coast tomorrow and Wednesday, possibly early Friday and Saturday mornings Surf Coast for keen surfers
Recap
Great waves all weekend on the Surf Coast with offshore winds and 3-4ft of SW swell Saturday, out of the W/SW on Sunday. Selected locations to the east were good, but not great.
This morning a new close-range W/SW swell from a strong frontal system pushing into us yesterday and this morning has boosted wave heights to 4-5ft on the Surf Coast and 6ft+ on the Mornington Peninsula and with better than expected conditions on the Surf Coast owing to the change to the incoming activity. Winds will shift W/SW into this afternoon as the swell steadies.
Today's Forecaster Notes are brought to you by Rip Curl
This week and weekend (May 28 – Jun 2)
The structure of the strong and vigorous polar frontal progression forming today to our south-west has changed since Friday. We've got a downgrade in the expected size, but along with this more favourable winds into Wednesday for a longer period before the onshores kick in.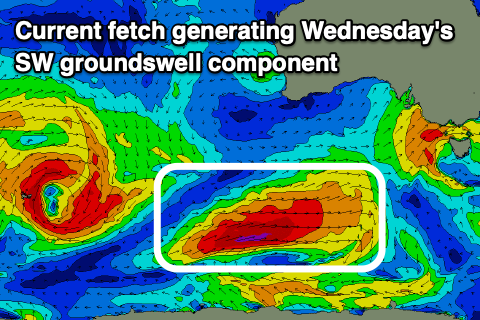 The main structural change to the progression is that we'll see a broad and more northerly positioned low with multiple fronts spawning on its western flank, pushing up initially in our south-western swell window and then western swell window.
Today's swell will drop into tomorrow morning ahead of a building mid-period mix of W/SW and SW swell, followed by groundswell on Wednesday.
Currently, south of WA a strong polar front has formed, with a fetch of severe-gale to near storm-force W/SW winds aimed through our south-western swell window. We'll see this frontal system weaken slightly but project up slowly towards us this afternoon and evening, aiming strong W/SW-SW winds in our swell window.
On the tail of this front though we'll see stronger W/SW gales aimed through our western swell window all of tomorrow, weakening as the system moves in across the state on Wednesday.
A large SW groundswell will be produced by the initial polar fetch, arriving Wednesday afternoon, mixed with a W/SW groundswell from the tail fetch but ahead of this mid-period energy will build tomorrow. The Surf Coast will likely build from 3-5ft in the morning and 6ft+ to the east, to a slightly larger 4-6ft on dark and 6-8ft to the east along with persistent and fresh NW tending stronger W/NW winds.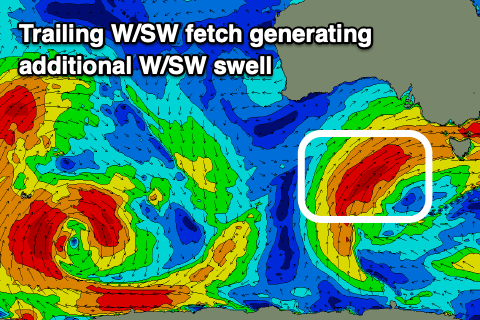 The groundswell will be bigger and stronger, building through Wednesday and reaching 6ft+ on the Surf Coast and 8ft to maybe 10ft on the Mornington Peninsula. Winds now look to hold strong out of the W/NW most of Wednesday, shifting W/SW mid-afternoon and into the evening.
The end of the week and into the weekend then looks poor with the progression continuing slowly east, directing onshore SW-S/SW winds across the state Thursday as the swell eases from a large 5-6ft and 6-8ft respectively, smaller Friday (easing from 3ft+ on the Surf Coast) and back to mid-period energy with SW winds. There's a slim chance for an early W'ly on Friday morning though not worth the drive from Melbourne.
The models diverge a little on the winds and weather for the weekend, but in general onshore SW breezes look to persist on the Mornington Peninsula Saturday morning, possibly W'ly early on the Surf Coast but small and weak, cleaner Sunday with a N/NW offshore though easing 2ft sets on the Surf Coast and 3ft to maybe 4ft sets to the east.
Longer term there's nothing significant on the cards until later next week as strong and slow moving blocking high dominates our swell window from the weekend into early next week. More on this Wednesday though.