Monday, 25 March 2019
Large surf easing from Tuesday, then a great run ahead for the Surf Coast
Victorian Surf Forecast by Ben Matson (issued Monday 25th March)
Best Days: Tues: early, very large peak, easing steadily, windy in the morning but abating. Wed/Thurs: rapidly easing, but clean with light winds. Fri: moderate new swell building, holding Sat, easing Sun, with freshening W/NW winds. Mon/Tues: very large surf redeveloping.
Recap: The weekend delivered great waves across the beaches with slowly easing wave heights and mainly NE tending N'ly winds ahead of a W'ly change later Sunday. Today has seen gale force (or stronger) W/NW tending W'ly winds with the passage of a deep low to our south. As for surf, we've seen initially small but steadily building swells, though it's somewhat undersized at the moment (relative to wave heights at Cape Sorell, and Pt Nepean). The main reason for this is that the initial increase was predominantly pre-frontal NW windswell, though the groundswell is now filling in; sets are 3-4ft at exposed Surf Coast reefs, and much bigger though extremely wind affected as you push east from the Bellarine (the late afternoon high tide isn't helping much on the Surf Coast reefs though).
Mid-late arvo high tide sets at Torquay main beach
This week (Mar 26 - 29)
Today's Forecaster Notes are brought to you by Rip Curl
*this week's Forecaster Notes will be occasionally brief and erratic, as Craig is on annual leave - to receive notification when they're updated, please update your account preferences*
As a forecaster, it's easy to panic when the early stages of a significant swell event are falling well short of expectations, as they are right now.
However, in context, it's only a few hours late: Monday morning was always meant to start off very small, with the building trend kicking in throughout the day and then peaking sometime between later today or early tomorrow. So, we're still well within an allowable margin of error on the timing of this swell.
There's been no major change to the dynamics of the low generating this new event - satellite data captured a healthy fetch of gale to storm force winds in our swell window on Sunday, and the latest model observations show the core winds are likely to peak later this afternoon, just W/SW of Tasmania (see below).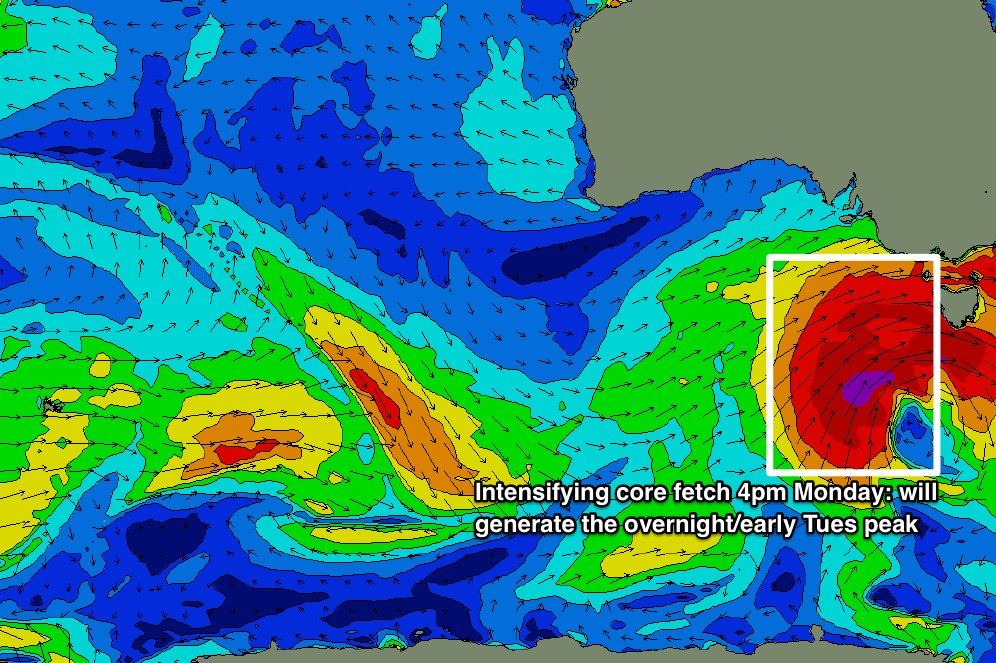 As such, I'm holding steady with my expectation for occasional roguey 6-8ft+ sets across exposed Surf Coast breaks early Tuesday morning (hopefully it doesn't peak overnight!), pushing 10-12ft across the East Coast. Size will however ease steadily (if not rapidly) throughout the day; we'll probably be down to 4-5ft sets in Torquay by lunchtime or early afternoon. Winds will remain W/NW at strength into the morning, before tending W'ly as it eases in strength.
I'm a little concerned about the strength of the overnight W'lies through Bass Strait on swell quality for Tuesday along the Surf Coast; wave faces should be clean but the lines will probably be a little mixed up. Moderate SW winds are a possibility for the afternoon session too, as the synoptic flow abates, but I don't think this will be any more detrimental to the surf.
Overall, I'm certainly not expecting epic surf on Tuesday though there'll be chunky, very sizeable offerings at swell magnets.
East of Melbourne, and there's no prizes for guessing which protected coasts will have waves tomorrow. With the westerly wind still holding into the morning, Port Phillip Bay novelty spots should still have workable options too.
The trend for the rest of the week is steadily down, with variable winds Wednesday (still good morning waves on the Surf Coast) tending N'ly on Thursday, ahead of an approaching front that'll probably deliver moderate to fresh W/NW winds on Friday with a building round of new W/SW through SW swells from a series of fronts pushing through the swell window all week. They're not terribly strong, but they are persistent and will nose quite a reasonable distance into the Victorian swell window, which gives increasing confidence for some decent waves to finish the working week.
At this stage Friday will probably start off in the 2-3ft range in Torquay but we should see some sets pushing 4ft+ late in the day. East of Melbourne, size will increase from 3-5ft to 6ft+ though with the freshening westerlies it'll be clean only inside Western Port and there may not be quite enough size to offer anything of great value.
This weekend (Mar 30 - 31)
Friday's late increase in swell is expected to hold into Saturday before easing a little through Sunday. A series of powerful fronts approaching from the SW will steer the winds around to to the W/NW in Torquay both days, and it'll become quite strong at times - but Saturday should see a little more size (than Sunday) and a little less wind (than Sunday) - so make it your preference.
East of Melbourne, Saturday shoud have small waves at Western Port but I fear Sunday may dip just below the rideable threshold. Everywhere else will be too wind affected.
Next week (April 1st onwards)
We've got some really large waves due early next week. And in contrast to the current swell event - sourced from a powerful low, positioned relatively close to the coast - next week's waves will be sourced from a polar low developing SE from Heard Island (off the Ice Shelf) later Thursday and Friday, before is pushed NE towards Victoria over the weekend. These are my favourite weather systems for Victoria, as the slightly more S'ly (of SW) swell direction provide a little more size across the Torquay stretch compared to SW or W/SW swells. And the bulk swell production happens much further from the mainland so the groundswell quality is better.
If model guidance holds true - and we've still got a few days to go before confidence starts to increase - we could be looking at a peak somewhere near 8-10ft across exposed Surf Coast breaks, with solid 12ft+ surf east of Melbourne.
More on this in Wednesday's update.