Monday, 31 December 2018
Lots of swell to come but limited options for a clean wave
Victoria Forecast by Craig Brokensha (issued Monday 31st December)
Best Days: Surf Coast Tuesday morning, selected locations Thursday mid-late morning, Friday morning both coasts
Recap
A small clean 1-2ft wave on Saturday morning across the Surf Coast though full on the early high tide and onshore by mid-morning. The Mornington Peninsula was better with more size and favourable winds ahead of the shallow change.
A better W/SW swell was seen on Sunday but onshore winds created less than ideal conditions.
This swell has eased back into this morning as expected with lingering onshore winds, but we should see a new W/SW swell building this afternoon, reaching 3ft on the sets across the Surf Coast and 4-5ft to the east.
Today's Forecaster Notes are brought to you by Rip Curl
This week and weekend (Jan 1 - 6)
This afternoon's new W/SW swell was generated by a more favourably located (more southerly) front pushing in and under the country during the weekend and we should see it kick the Surf Coast and Mornington Peninsula to the above mentioned sizes.
A drop in size is then expected tomorrow with cleaner conditions on the Surf Coast under a morning W/NW breeze. It'll only be light and likely tend more variable ahead of a shallow SW change, so the Mornington Peninsula could be OK for keen surfers. 2-3ft sets are expected on the Surf Coast magnets with 3-5ft waves to the east, easing through the day.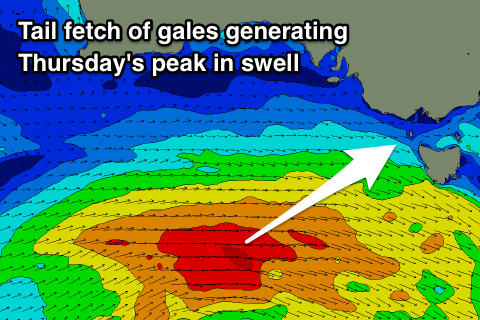 Our slightly bigger and stronger mid-period W/SW tending SW groundswell event for Wednesday/Thursday is still on track, with a broad and slow moving storm moving in from the south-west of WA.
Currently an elongated fetch of strong W/SW winds are being generated through our western swell window, south-west of WA. This fetch will move further east closer to us, generating a mid-period increase in W/SW swell Wednesday afternoon, but stronger gale-force W/SW winds at the tail of the progression will then follow and move towards us from this afternoon through tomorrow while dipping slightly east-southeast.
A stronger W/SW tending SW groundswell will be produced by this fetch, filling in overnight and peaking Thursday morning.
The Surf Coast should build to 3ft+ by late in the day with 4-6ft sets on the Mornington Peninsula, though with onshore S/SW tending S/SE winds.
Thursday will reveal larger surf around 4ft on the Surf Coast and 5-6ft+ on the Mornington Peninsula along with improving conditions.
Dawn looks average with an E/SE breeze, but winds are due to tend more E/NE through the morning, cleaning up the beaches east of Melbourne, but with the size of the swell options will be limited.
Friday is looking much better as winds swing N/NE creating great conditions on the beaches, though a S/SW change is due around late morning/midday.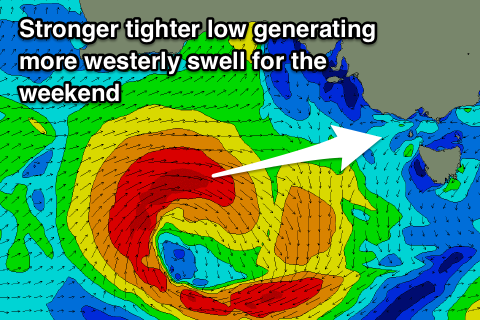 Size wise the Surf Coast should be easing from a fun 3ft on the swell magnets, with 3-5ft sets to the east, and this look to be the day of the week.
Unfortunately onshore winds look to linger from the S/SW-S/SE on Saturday with a low point in swell early ahead of a new acute W'ly groundswell building through the day.
This swell will be generated by an intense mid-latitude low forming west-southwest of WA, too far north of our swell window before dipping east-southeast and more into our swell window later this week.
A fetch of gale to severe-gale W'ly winds will be generated in our western swell window, producing a strong W/SW groundswell for Saturday afternoon, kicking to 3-4ft at swell magnets on the Surf Coast, much smaller protected spots and 6ft+ on the Mornington Peninsula.
Sunday still looks onshore as the swell eases with S/SE breezes, while a larger swell is on the cards for early next week (though onshore again). More on this Wednesday. Happy New Year!